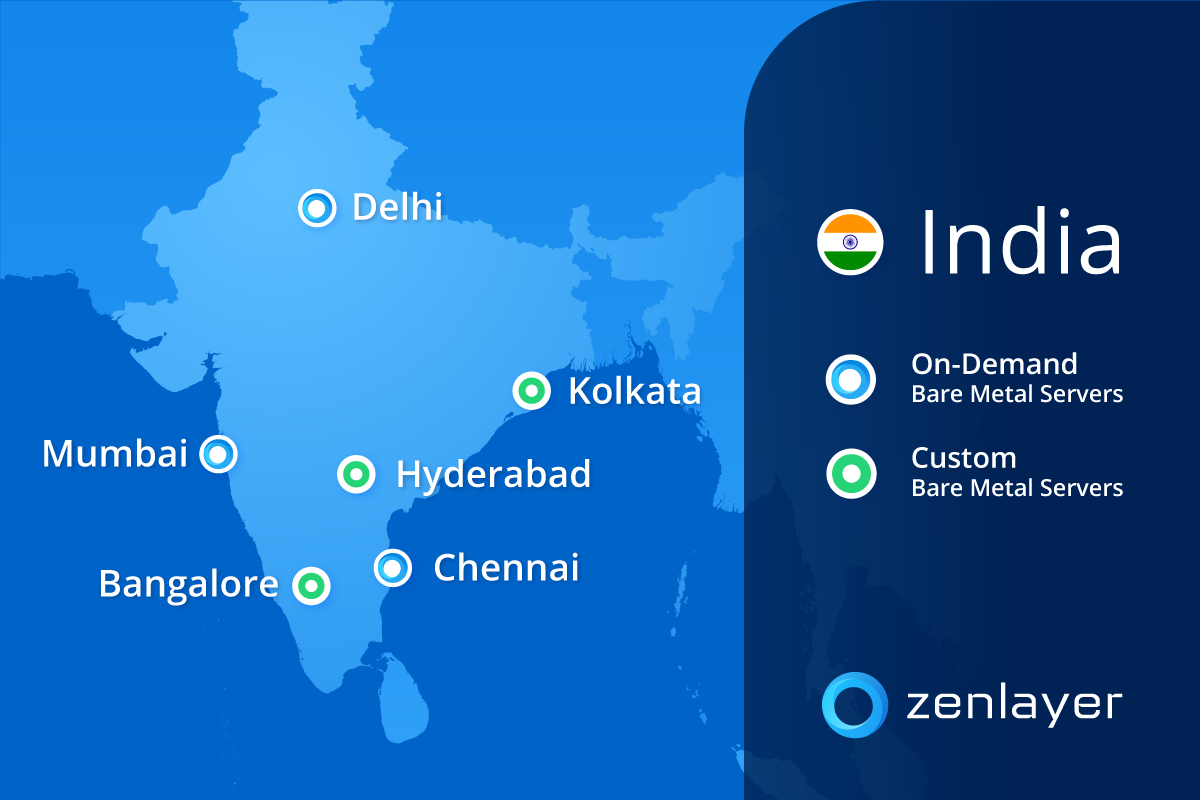 Los Angeles, CA – September 19, 2019 Zenlayer has further expanded its Bare Metal Cloud services to both Chennai and Delhi. Along with Mumbai, this brings the company's total to three different Indian locations and makes Zenlayer the leading provider of on-demand bare metal servers in India. The new hubs more than triple the number of servers currently available for instant deployment and enable customers to reach end users in the northern and southern India regions even faster.
"Zenlayer is the first company to offer more than one location in India for bare metal on demand," said Joe Zhu, CEO and Founder of Zenlayer. "I see enormous potential for our products in the region. India has gained a reputation for being a difficult market for outsiders to penetrate, but we've built up great relationships with the local data centers and telecoms and are able to offer very positive experiences for our clients."
Customers are now able to order the new servers in Chennai and Delhi for immediate use through Zenlayer's Customer Portal. The first servers offered are Zenlayer's popular M-series models, which come with 64 GB of RAM, between 2.4 and 4.8 TB of hard drive space, dual Intel E5 CPUs with 6 or 8 cores each, and multiple ports for LAN access to create a private LAN. In October, the server selection will be further expanded and include Zenlayer's new S8 servers for high performance at an affordable price point. The S8 servers have already proven a hit in Mumbai, where multiple new deployments have been required to keep up with demand.
"Bare metal servers are great for companies who need guaranteed performance," says Seagle Yang, Product Architect. "With a virtual machine in a cloud, you don't know where the server hosting your data is or who else is on the same device – the so-called 'noisy neighbor effect' can be a big hindrance. With Zenlayer, you know exactly where your server is when you order it, and it's exclusively yours." The noisy neighbor effect refers to when two or more virtual machines (VMs) are running on the same server and one VM's usage of the CPU negatively affects the other VMs.
The Bare Metal Cloud expansion is a particularly welcome boon to companies trying to reach India's estimated 290 million mobile gamers. Gamers are especially sensitive to latency issues. In competitive play, lag for the smallest fraction of a second can mean the difference between a win and a loss. The combination of multiple bare metal points of presence (PoPs) in India with Zenlayer's private internet backbone for data transfers in and out of the region will reduce latency to a minimum and improve user experiences exponentially. The value of the Indian gaming market is on target to reach $1 billion by 2021.
Zenlayer currently operates out of 11 data centers located in 6 different cities in India: Bangalore, Chennai, Delhi, Hyderabad, Kolkata, Mumbai. It offers on-demand bare metal servers in Mumbai, Chennai, and Delhi and custom bare metal server deployments in all six cities. Zenlayer highly values local knowledge and works closely with data center providers with deep local expertise. In India, these include Netmagic Solutions, Nxtra Data, Sify Technologies, ST Telemedia, and Tata Communications to ensure deployments are swift and Zenlayer's high standards are met.
For more information, learn more about Zenlayer's India solutions.
For more information on server specifications and prices, visit Zenlayer's Bare Metal Cloud sales page.
About Zenlayer 
Zenlayer (www.zenlayer.com) is an edge cloud services provider and is headquartered in Los Angeles and Shanghai with offices in Singapore, Taiwan, Hong Kong, Beijing, Hangzhou, and Shenzhen. Businesses utilize Zenlayer's software-defined platform to instantly enable worldwide connectivity and deliver superior user experience. Zenlayer offers on-demand bare metal cloud, cloud networking, SD-WAN and managed services in more than 120 data centers on six continents.