You can now use zenConsole to instantly interconnect your Bare Metal Cloud instances in different regions. Previously, customers had to contact us to manually connect cross-region instances, which carried a longer lead time and slower deployment. 
Through Zenlayer Cloud Router and our massive global private network, you can enjoy faster, more secure data transmissions between your instances around the world by keeping your traffic off public networks. 
To connect your bare metal instances in different regions, just follow these simple steps: 
Please note - each of your instances in a different region must belong to a virtual private cloud (VPC) in order for you to take advantage of this feature. If you don't currently have a VPC and want to set one up on zenConsole, check out our VPC Quick Start Guide! 
Step 1. Before creating your connection, ensure that you have a VPC set up for your bare metal instance by navigating to Bare Metal shown on the navigation bar to the left of zenConsole, then clicking on Virtual Private Cloud. Here, you'll find a list of your created VPCs. 

 Step 2. Now navigate to Cloud Router as shown below. 

Step 3. Start creating your Cloud Router by giving it a name! After you're done, click on the Continue button to add access points. 

 Step 4. Click on one of the circular + buttons under Add Access Points to bring up the access point selector. 

Step 5. Click on Zenlayer VPC under Select Your Access Point Type, then click on the circle to the left of the VPC you want to set as your new access point.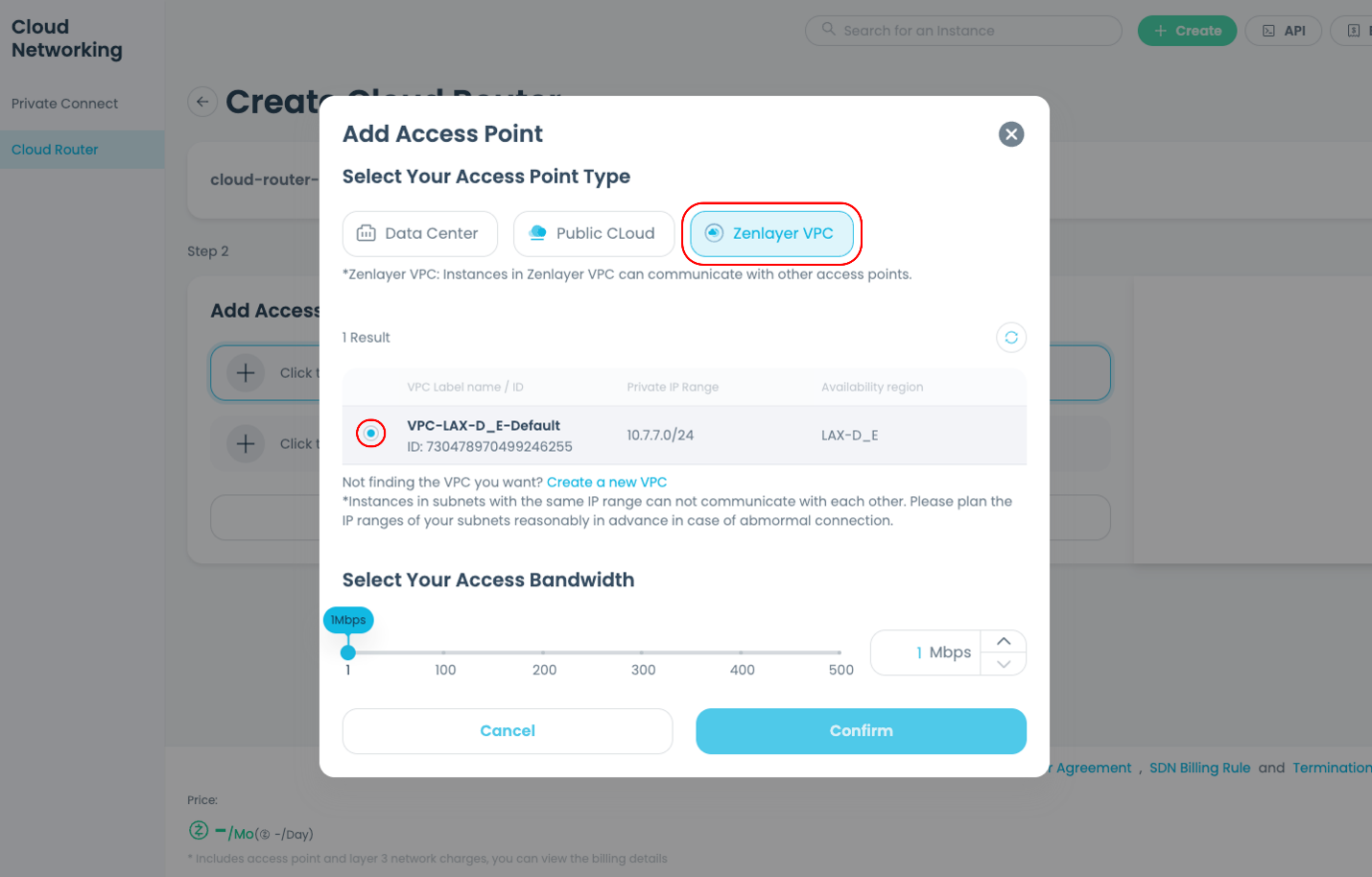 Step 6. To connect your new access point to your VPCs in other regions, simply repeat Steps 4 and 5 above to add additional VPC access points. When you're finished, confirm your configurations and billing details to create and deploy your Cloud Router. 
Congratulations - once your Cloud Router has been successfully deployed, the VPCs you've selected as access points will be connected through our global private network and benefit from faster, more secure data transmissions! 
But wait, there's more!  
Did you know you can also connect your VPC(s) to your data centers and public clouds?  
For data center connections, follow the steps detailed in this data center connection guide.  
For public cloud connections, follow the steps detailed in this cloud connection guide.  
New to Bare Metal Cloud? Check it out now!   
 Instantly deploy your applications on high-performance, dedicated physical servers close to your users – now available in 59 cities across 6 continents.   
If you've never used our bare metal cloud, check it out! Delight your users with lower latency, and smoother, more responsive experiences. Sign up for our self-service zenConsole or contact our sales team to get started!