Zenlayer has a lot of wonderful employees ("Zenplayers") besides just CEO Joe. This new feature will turn the spotlight on the many different people and jobs that keep Zenlayer humming.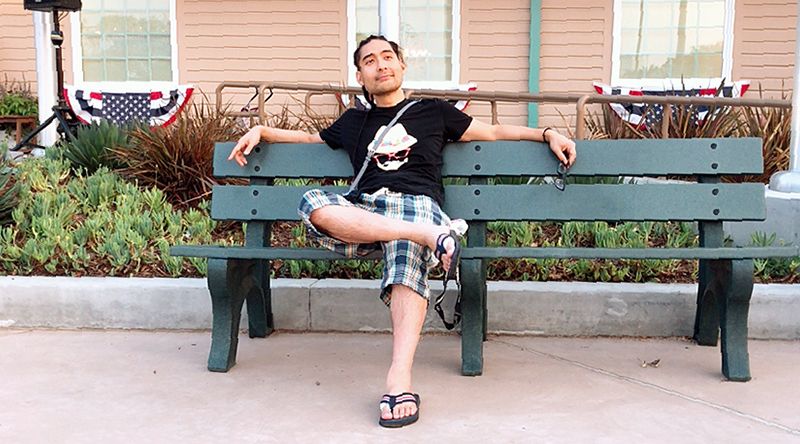 Zenlayer Systems Engineer Patrick Huang relaxing on a bench and contemplating his next "SaaS" project.
Patrick has been a bright spot in the office for over three years now. Whether it's coming up with a solution for a complicated customer problem, discussing the finer points of history, or chopping up vegetables in the kitchen to make a salad, Patrick and his multitude of hairstyles are always a welcome presence.
Q: Zenlayer is known for hiring people with unusual skillsets beyond what are considered "standard" qualifications. What led to you working at Zenlayer?
A: I could bring a lot of non-standard value to the company because I graduated with a Biology degree from UC Berkeley. It's not the usual choice for a systems engineer, but I knew Linux from a very non-standard perspective and was working on computers in my spare time. I did a lot of experiments with computer parts. One time, I tried submerging a computer with an overclocked CPU in crystal mineral oil to see if it would work as a cooling agent. Turns out the oil heated up and killed the hard drive instead, but I definitely learned from it.
When I was being interviewed, one of the interviewers told me they wanted a "wildcard" addition to the company. Someone who could look at things from a different angle and help make connections other people might not see. I like to think I've succeeded at that during my time here.
Q: What does a routine day for you look like?
A: I want to say that there is no "routine" day, but there are some things I do most days, like responding to emails or handling support calls. These are usually high-level, specialized support requests for Zenlayer products, like if we have a customized solution in place. Sometimes they're direct calls from certain high-profile customers.
Outside of support, I do a lot of testing on new products and creating POCs [Proof of Concept] for custom solutions that integrate multiple features from our different products. I'll set up A/B testing, regression testing – anything I can think of to make sure it works and works well. Currently I'm doing testing for some of our CDN [Content Delivery Network] solutions.
Q: What are some interesting projects you're currently working on?
A: I'm handling two internal requests right now that are pretty interesting: a new monitoring platform for the US GSC [Global Service Center] and a log analysis system.
For the monitoring platform, we realized that even though our content acceleration was being monitored from an infrastructure standpoint, we aren't completely capturing deliveries from a customer/transit perspective. Right now the system tells us things like if a server has gone offline or a route is congested. With the new system, we want the system to be able to take customer-specific test objects, like text, pictures, and video, monitor their progress from end to end, and make absolutely sure everything is going through smoothly.
As for the log analysis system, the previous system used ELK Stack. This let us get pretty much real-time data analysis and could be used for any kind of data Logstash can process. We deliver these logs "live" to certain customers. When they asked us questions about the data, however, we needed to create custom Python scripts for additional processing. It works, but it doesn't scale very well. So now we're making something more industrial strength.
Q: It seems the first time most people meet you it's when you're chopping up greens in the kitchen. How did you become Zenlayer's "salad guy"?
A: One of the temptations when you're working in an office all day is to eat a lot of unhealthy food, especially when there's constantly cake and other treats being brought in for celebrations or as souvenirs from trips. Getting in a routine of making salad for lunch was my way of making sure I regularly had something healthy to eat.
After a few weeks of this, one of my co-workers asked if they could have some. I checked around, found out quite a few other people also liked the idea of having a healthy meal, and now I provide "SaaS" (Salad as a Service) at least a couple times a week if not more. I try to vary up the contents based on what's seasonal and have experimented with including different proteins. Romaine, spinach, cranberries, and walnuts are staples.
It's definitely extra work since I'm making portions big enough for about 10 people, but it's a nice way to give back to the company and provide a healthy option for people. We set up a Venmo account with a suggested donation so my costs are covered. It also got some other people in the habit of sharing lunches. One of the Sales guys brought in a tri-tip he'd roasted, and some other groups collaborate on bringing in food cooked at home, sort of like mini-potlucks.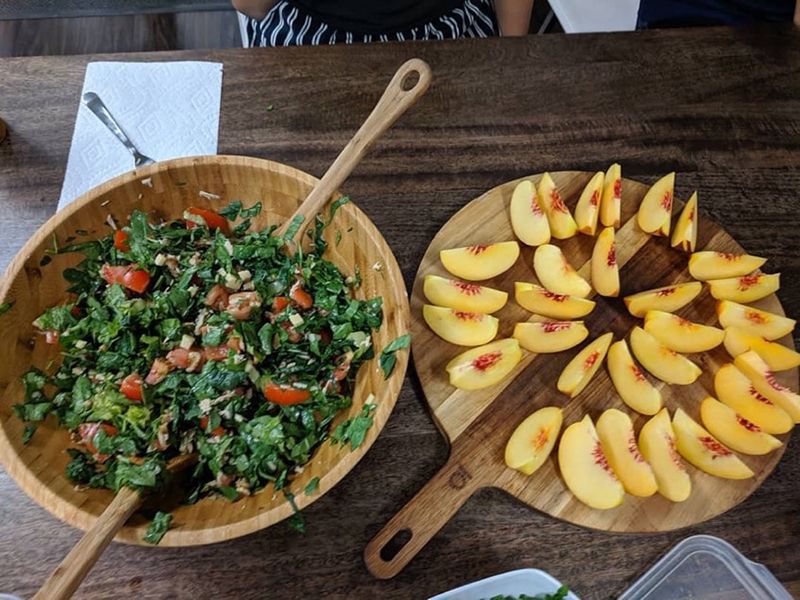 Salad and fruit ready for lunch.
Q: Zenlayer is a global company, and a lot of people meet their co-workers in person for the first time at the annual company trip. You met someone particularly special during the 2018 trip, didn't you?
A: I hope you mean my wife! Yes, we're the meet-cute story of Zenlayer. The company trip was in Thailand and everyone thought it would be fun to push us together because of our matching personalities. Fortunately, someone asked us each first if we were okay with it before they started giving us seats next to each other and conveniently ditching us on tours.
Of course, it worked out and we got married a year later. That is, I say "of course" now, but sometimes it's still hard to believe I met the love of my life on the same trip where I got water poisoning scuba diving. But that's life sometimes.
Are you interested in becoming a Zenplayer? See if there's an opportunity that's right for you on our careers page!
Recipe for Patrick's "SaaS"
Lettuce or other greens
1 large tomato
1 purple onion
Raisins
Cranberries
Walnuts (chopped)
Almonds (chopped)
Parmesan cheese (grated or shredded)
Olive oil
Balsamic vinegar
Chop or tear lettuce. Place in a large bowl.
Chop tomato and purple onion into bite-sized pieces.
Soak the chopped onion in the tomato juice.
Add the tomato, onion, and all other salad ingredients to the bowl.
Mix well.
Drizzle with olive oil and balsamic vinegar.
Put out a donation box and Venmo QR code asking for $1 to cover ingredients or $3 per week.
Serve.
Hope someone else cleans up the dishes.