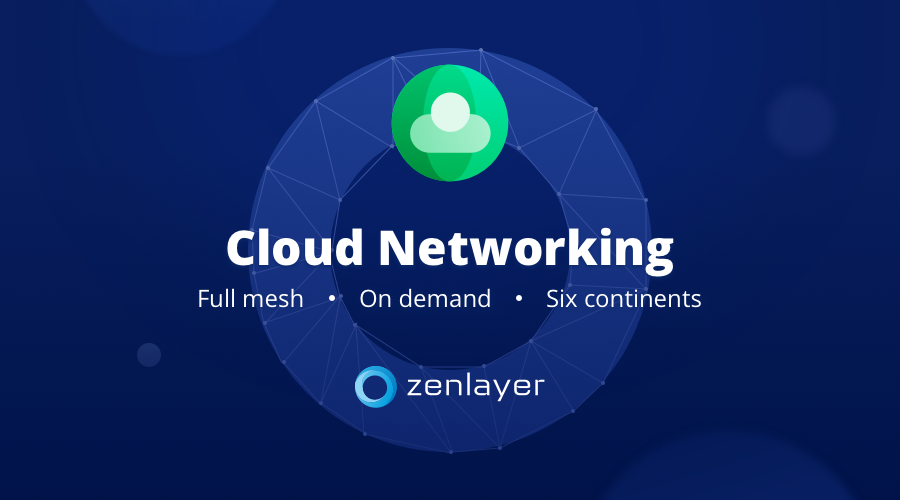 Zenlayer announced today that its Cloud Networking service now offers full-mesh software-defined networks on demand across six continents, an industry first. Simultaneously, Zenlayer is rolling out new Cloud Networking features and upgrading infrastructure to further improve digital experience for all users.
Zenlayer's Cloud Networking is a service which allows businesses to instantly connect public clouds, private clouds, and data centers. This means businesses can create private networks on demand to lower latency and greatly reduce data transmission times for their applications and platforms. Customers can easily scale their networks as they grow, maintain complete control of their data, and deal with just one point of contact for a truly global network. 
"This is an important milestone not only for Zenlayer but everyone who connects users between regions," said Zenlayer Founder and CEO Joe Zhu. "During the last few months, it has become clearer than ever how reliant our world is on digital connections. By enabling those connections faster and more flexibly, we're eliminating the gap between users no matter where they are."
A full-mesh network is one in which every node or point of presence (PoP) can be connected to each other. These connections make the network very flexible when routing data, thus lowering latency and boosting data transmission speeds. To implement full-mesh networking, high-performance layer-3 switches were installed in all Cloud Networking locations. At the same time, physical hardware was upgraded, new connections added, and capacity substantially increased.
Of the new Cloud Networking features, Quality of Service (QoS) is expected to provide a significant boost to customers' user satisfaction. QoS allows businesses to prioritize different traffic according to custom rules. High-priority applications and VIP user connections can be guaranteed certain levels of service beyond Zenlayer's already-fast standard speeds. QoS rules can be set based on application, region, IP address, and/or network status to give users the best digital experience possible. 
For more information about Cloud Networking: https://www.zenlayer.com/products/cloud-networking
About Zenlayer 
Zenlayer is an edge cloud services provider and global company headquartered in Los Angeles, Shanghai, Singapore, and Mumbai. Businesses utilize Zenlayer's platform to deploy applications closer to the users and improve their digital experience. Zenlayer offers edge compute, networking, and application delivery services in more than 180 locations on six continents.