Key points
• Reduced latency between game servers and players by 50% using Zenlayer's premium network blend
• Improved server failover time from minutes to seconds by leveraging Zenlayer Global Accelerator's intelligent load balancing technology
About the Client
Industry: Gaming
Needs: Emerging market connectivity, last mile acceleration
Zenlayer services used: Zenlayer Global Accelerator, IP Transit
The Client is a global game publisher with a solid portfolio of multiplayer games, chief among which are their world-leading multiplayer titles that see some of the highest player counts globally.
As the Client's player count in South America ballooned due to the meteoric rise in popularity of one of their MOBA titles, the Client wanted to be able to give their players in South America's emerging markets the same level of gameplay and service as their players in more developed regions. 
The challenge: Delivering consistently high-quality service across South America
The quality and reliability of network infrastructure varies wildly across countries in South America. While well-developed, bustling cities enjoy more modernized internet speeds, most areas have limited access to high-speed internet, which leads to connectivity issues and disruptions during online gaming sessions. The situation is exacerbated by long physical distances between the Client's existing game servers in Brazil and most of the countries in South America, delaying transmission and creating high latency that further negatively impacted gameplay. 
To be able to offer the same high-quality service across a larger region, the Client felt pressured to source multiple providers and plan for substantial infrastructure buildouts to compensate for inadequate local network infrastructure. Both are costly and time-consuming. 
In their quest to reach their goal more efficiently, the Client approached Zenlayer, a leading cloud compute and networking company boasting the world's most hyperconnected cloud and a decade-long track record of helping multinational businesses successfully expand into emerging markets. 
Halving latency with Zenlayer's premium network blend
Due to the aforementioned suboptimal local internet infrastructure and insufficient peering agreements between providers in countries throughout the region, game traffic was frequently routed inefficiently through long, meandering paths that made gameplay for players in less developed regions clunky and unsatisfying. 
To combat latency, the Client purchased Zenlayer's local IP Transit service, which blends the best upstream carriers throughout South America to create a high-speed, highly reliable network that reduced player-to-server latency by 50%. The Client's players in the region now experience slicker, more responsive inputs and enjoy faster speeds when logging in, partnering up, and finding opponents for PVP matches. 
However, game stability still posed a problem due to the ever-growing player count, which generated massive amounts of traffic that overloaded the Client's game servers in Brazil.
Minimizing failover time with Zenlayer Global Accelerator
To enhance game performance and stability in South America's emerging markets, the Client previously deployed core and edge combat servers in Brazil to serve local players. Core servers take care of the administrative tasks like account data and player logins, while the edge combat servers host, as the name implies, the actual player-versus-player (PVP) combat. 
As the Client sought to cater to players in other countries throughout the continent, they wanted to consolidate their resources to streamline operations, which made them seek alternatives to the messy and expensive traditional route of deploying a high number of edge combat servers throughout multiple countries.
On Zenlayer's recommendation, the Client deployed Zenlayer Global Accelerator, a network acceleration service built on Zenlayer's massive global private network. Players across South America connect to the Client's core servers in Brazil for logins, application updates, and in-game stores or marketplaces. From there, player gameplay traffic is load balanced via Zenlayer-provided IP addresses routed to the Client's edge combat servers using Zenlayer Global Accelerator's intelligent routing algorithms.
Zenlayer's network acceleration service features an always-on, automated origin health check, which actively monitors the status of origin servers to ensure optimal performance and load balancing paths. Using this technology, failover time dropped from an average of minutes to seconds when events like network failure caused players to lose connectivity to the server they're interfacing with. This improvement meant that if a server goes down, gameplay disruptions will be significantly reduced in severity and duration. With the help of Zenlayer Global Accelerator, players may experience a slight stutter for a few seconds or no impact at all, as opposed to massive lag spikes that occur over several minutes or worse.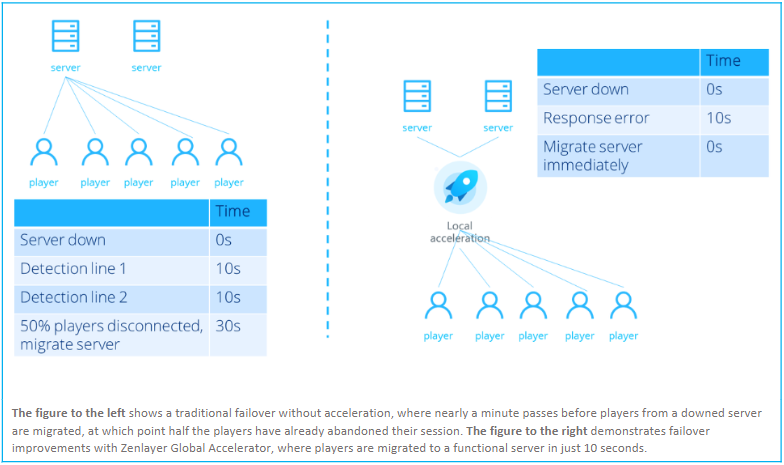 Looking ahead
Zenlayer will continue to work with the Client to improve gaming experiences for their players in other emerging markets where similar challenges are present by leveraging a combination of premium IP transit services and Zenlayer Global Accelerator. With Zenlayer taking care of network stability and performance, the Client can focus more of their efforts on developing their next big hit. 
Expand your global footprint with Zenlayer 
Zenlayer's premium IP transit, global acceleration service, and local expertise helped the Client drastically improve gaming experience for their players throughout South America – and we can do the same for your gaming business anywhere in the world.
If you're looking to expand your company's global footprint, improve experiences for users, or accelerate apps or services, talk to a Zenlayer solution expert today!
For instant provisioning, check out zenConsole — our self-service platform that lets you deploy around the world in minutes.