IABM TV Interview with Founder and CEO of Zenlayer, Joe Zhu 
The following is a transcript from an interview with our founder and CEO Joe Zhu hosted by IABM. You can watch the full interview here. 
Speakers:  
Ben Dales (Host; IABM Head of Digital)
Joe Zhu (Guest; CEO of Zenlayer)
Ben: Can you talk a bit about yourself and Zenlayer? Why did you start Zenlayer? 
Joe: Thanks Ben. I'm the Founder and CEO of Zenlayer, an edge cloud services provider. Zenlayer offers on-demand edge cloud services in over 180 PoPs around the world. We have expertise in fast-growing emerging markets like Southeast Asia, India, China, and South America, and operate in different verticals like gaming, media, entertainment, live streaming, online education and so on. Companies utilize Zenlayer's platform to improve digital user experiences with ultra-low latency and worldwide connectivity on demand. 
Prior to founding Zenlayer, I was the SVP of Global Business at ChinaCache, where I built up from scratch, the global business unit of China's largest CDN provider. Before ChinaCache, I worked as the Director of Network Operations at China Telecom (USA), where I oversaw China Telecom's North American network operations and led the development of China Telecom's global peering policy.  
I'm also an avid gamer and one of the top players of Age of Empires. I've often noticed the frustration of slow internet speeds and I realized that low latency gives players a huge competitive advantage. This is one of the problems we're solving at Zenlayer. We want to level the playing field and make internet connections fast to anyone, anywhere in the world. 
Ben: What are some of the biggest challenges the media & entertainment companies are facing today? How will these impact their IT strategy in the coming years?  
Joe: The whole industry has changed rapidly, especially last year due to the pandemic. There are a couple of trends that we have observed. First, users are working from home more, they are playing more games, and streaming more content. Covid-19 has made users even more globally distributed, which brings more challenges to application and network performance. For example, when the pandemic hit OTT providers, like Netflix, they had to reduce their bitrate to accommodate more users streaming content from being at home more. The pandemic accelerated the need for better infrastructure to handle more users and performance to deliver higher quality content to the end user. 
Media & entertainment Companies are increasingly going "direct-to-consumer/OTT": the process of creating video content and delivering it straight to internet consumers. But many still lack the control of the last mile delivery platforms and mechanisms. They need to work with the right partners: carriers, device manufacturers, OTT service providers and edge cloud platforms such as Zenlayer to optimize that last-mile delivery. For example, when the pandemic hit OTT providers, like Netflix, they had to reduce their bitrate to accommodate more users streaming content from being at home more.  
Another challenge media and entertainment companies face are serving emerging markets. Today, exponential internet consumption growth is only visible in emerging markets and an increasing number of media & entertainment companies are trying to capture that opportunity. In North America, internet users have grown 125% from 266 million to 333 million from 2010 to 2020. In contrast, internet users in Asia have grown 305% from 825 million to 2.5 billion from 2010 to 2020. Video consumption is growing tremendously fast as consumers in emerging markets want more on demand, high-quality and buffer-free content. OTT revenue in Asia-Pacific is expected to double by 2024 for countries like China and India. However, media companies very often find it difficult to deploy infrastructure into these far-reaching markets and deliver a high-quality user experience there due to fragmented ISP landscape, local regulations, and weak network environment.  
That's where we come in with expertise, resources and technologies to enable their expansion into these high-growth areas. Leveraging our edge cloud platform, they can quickly deploy into these hard-to-reach markets at a lower cost, and at the same time, provide a fast, reliable and interactive experience for their users.
Ben: How does Zenlayer help streaming companies tackle these challenges and capture the exploding opportunities in emerging markets? Any interesting stories to tell? 
Joe: Our purpose is to improve digital experiences. We do it by pushing cloud computing close to the user. For example, we built 3 nodes in London running compute, network and application services, so that media and entertainment industries can deploy their applications closer to the user. Same for other cities in emerging markets like Mumbai, India and Jakarta, Indonesia. Today, Zenlayer has over 180+ nodes globally, with a focus on emerging markets. Out of 37 countries, 22 are emerging markets.  
Emerging markets do not have stable infrastructure. It is not as good as mature markets in the U.S., UK, Japan, and South Korea. There's a higher demand for low latency and high-performance service. Mobile users, GDP, the overall internet population are growing rapidly in emerging markets and it's a significant opportunity for the media and entertainment industry. 
I want to share a success story from a recent partnership between Zenlayer and ZEGO. ZEGO is a global cloud provider assisting enterprises to rapidly acquire stable and live HQ streaming capabilities in more than 200 regions worldwide. Since there is no public cloud infrastructure in many of their target markets, they utilize Zenlayer's edge cloud services.   
They approached Zenlayer with a few key challenges:  
Emerging markets have regional cloud infrastructure gaps. The network environment between user locations plays a key role in determining the quality of real-time experiences. They need to be well connected to ensure that all users have the same cloud connectivity. 
4G is not widely available and 2G service is still being used. This means applications must contend with lower network speeds. Mobile users in emerging markets are also exploding. India will soon be in the top 3 mobile markets. If not enough infrastructure is built to support the growing cloud demand, content delivery will suffer. 
Some markets also have expensive network tariffs, complicated data protection policies, and/or limited cloud suppliers.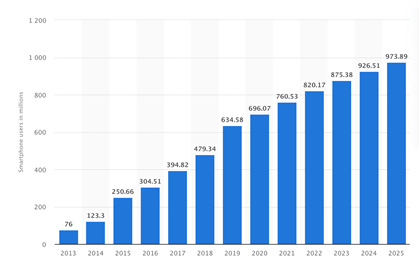 Number of smartphone users in India in 2015 to 2020 (with a forecast until 2025)   
To better serve their 500+ million users, ZEGO used Zenlayer to deploy and connect 22 core and edge PoPs in emerging markets like South America, and Southeast Asia. By doing so, they established a stable, low-latency, dedicated network with access to the best local carriers and improved end-to-end real-time interactive audio and video experiences for users even under complex network environments. Customer satisfaction increased by an impressive 35%. At the same time, Zenlayer helped ZEGO reduce operation and maintenance costs by over 30%, increase operational efficiency, and expedite technology developments and upgrades, allowing ZEGO to further expand its global footprint.
Zenlayer also recently started providing services to the University of California, who inadvertently needed to start streaming their content because of Covid-19. They have many students living in emerging markets in Asia and they must attend class. So, these students are using Zenlayer's application to access UC's content remotely. We observed 30% – 40% improvement in user experience for students. 
Leaders in streaming media are choosing Zenlayer because of our ability to instantly improve users' digital experience globally. We have in-house experts that have in-depth understanding of local internet exchanges, ISPs, telecommunications operators, and data centers, especially in emerging markets. Zenlayer provides standardized operation and maintenance services around the world. We also have a 24/7 bilingual technical support team for immediate problem resolution. 
Ben: What are some keywords you want Zenlayer to be remembered for? 
Joe: 
• Leader in emerging markets. 
• Edge cloud services provider. 
• Improving digital experiences. 
• Delivering "WOW" service! 
I'm reminded of an amazing story from the CEO of Zappos: he convinced someone to call Zappos customer support to order a pizza, since he was confident that his employees would complete her request. While the Zappos representative was initially confused, she ended up calling a pizza parlor and placing the order for her! At Zenlayer, we are committed to delivering the same "WOW" service for our customers. 
Find out more about Zenlayer's edge cloud services here and IABM's mission here.