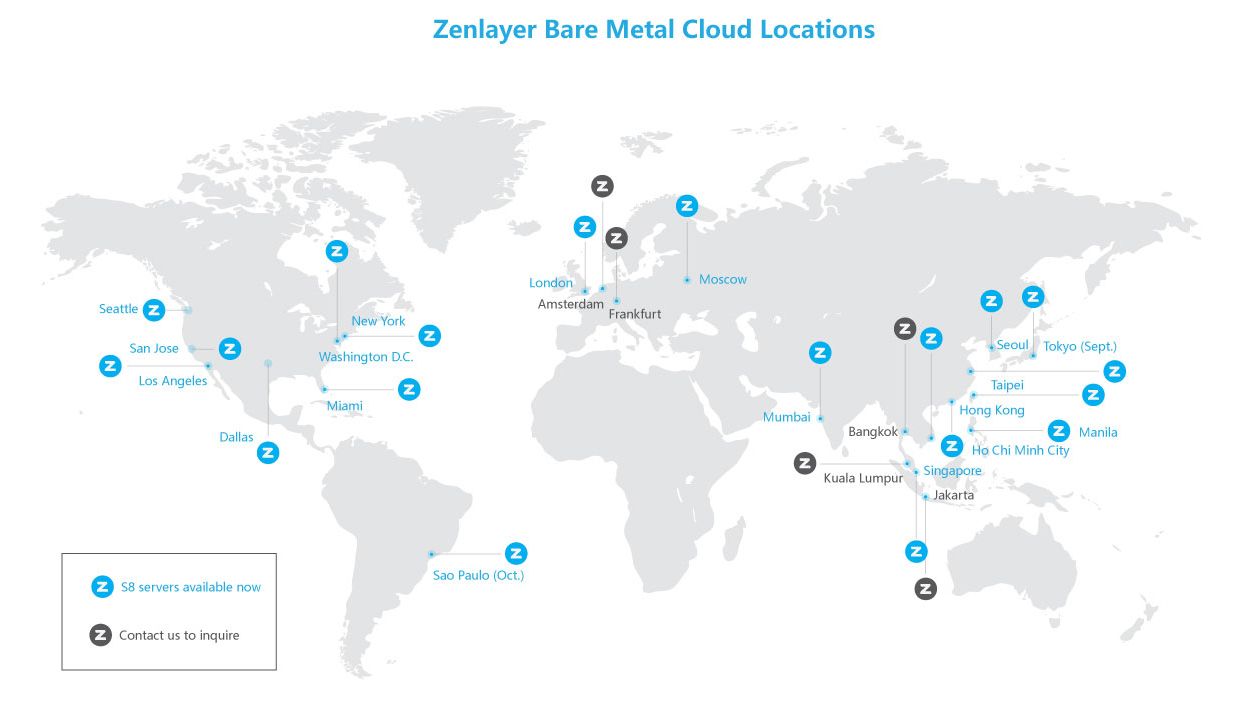 S8 servers are now available in most Zenlayer Bare Metal Cloud locations.
In March, we introduced a new standard server to our Bare Metal Cloud lineup: the S8. Configured for increased computing power and standardized for an affordable price, it rolled out in four locations with the promise of a global rollout later in the year. Guess what – it's later! The S8 has been a popular success and is already available in 70% of our instant-provisioning bare metal locations with more coming soon.
What are the S8's specs?
So what are these specs that offer greater power? We originally custom designed these servers for a gaming client who needed the extra computing power in their bare metal cloud. Each S8 server has four cores for a clock speed of 3.50 Ghz, 32 GB of RAM, a 2 TB hard drive, and support for private LAN connections. Depending on the model of S8, the network interface card (NIC) supports bandwidth up to either 1 Gbps or 10 Gbps.
Of course, if those specs aren't enough for you we offer several other models. Just take a spin in our Customer Portal to see all the options available or contact a sales representative for custom solutions.
4 cores; 3.50 GHz clock speed
32 GB RAM
2 TB hard disk
Supports Private LAN
1xIntel® Xeon® CPU E3-1230 v6
1 Gbps or 10 Gbps NIC
 
Are S8s available in every Zenlayer Bare Metal Cloud PoP?
Almost, but not quite. S8 is available in 16 of our bare metal data centers right now, with 2 more coming in the fall. We are looking at demand as we continue with the roll out. S8s will also be available in some cities where we will be rolling out Bare Metal Cloud soon, like Chennai.
S8A, S8B, S8C… What's the difference between the different S8 models?
We have several different letter codes for our S8 servers. The letters refer to a combination of which NIC is installed (1 Gbps or 10 Gbps) and which region the server is in. Not all regions have the same server specs available. You can always see the specs before you order on our Customer Portal.
How does S8 compare to S7, M, and L servers?
The S7 was already a powerful little machine for the price. We've built on that and the S8 has more ports, double the RAM (32 gigabytes), an above-average clock speed, and is capable of utilizing up to 10 Gbps of bandwidth at a time. Our M and L servers are configured with 64 GB of RAM and 128 GB respectively, dual processors, more cores, and much more hard drive space, but all that hardware means they're also more expensive. That makes the S series the best starting point for most users looking to instantly provision bare metal servers.
What does it cost?
As they say, "With great power comes great affordability." (They do say that, right?) S8 servers start at just $129 per month! The costs vary depending on both the specs and the region – it's simply more expensive to deploy and run servers in certain parts of the world. For the latest prices, you can check the Customer Portal at any time. (Additional quotes can of course be obtained by contacting a sales representative.)
But wait, as they say, there's more! (I know they definitely say that.) Most S8s also come with free bandwidth within a private LAN. As long as your data is running through our internal switches, you don't have to pay for it. Most of our competitors charge per 100 Mbps of traffic; we provide 1 Gbps of private LAN traffic free of charge.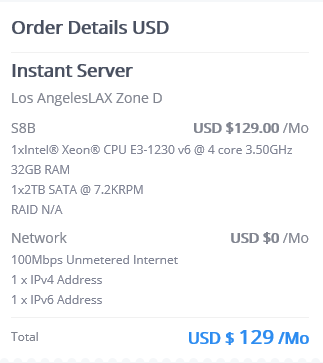 A sample order from our Customer Portal.
Who should use S8?
The S8 is ideal for gaming companies, especially online games which need multiple PoPs to keep latency low for their players. The affordable price point means companies can easily set up many machines for each region, directing players to the server closest to them. S8s are also handy for anyone interested in edge computing or the internet of things. Both cases, again, call for higher computing power with minimized latency.
Another advantage comes from the addition of private LAN support compared to the S7. The S8 allows you to cluster several machines, connect them with an intranet to make a private network, and create redundancy on a small cluster virtual machine deployment. Therefore a few S8s in a cluster is similar to a single M server, but with redundancy and multiple times the bandwidth. It also allows you to create a globally connected infrastructure running on a private backbone.
And of course, S8 is perfect for testing, proof of concepts, and other cases where you need a quick server prototype capable.
Getting started
Ready to spin up your own S8 server? It couldn't be easier. Just access our Customer Portal day or night and choose your region and zone. The first time you access the Portal will require registration and approval, then you're in the clear to start provisioning servers (and bandwidth) all over the world. Why not get started today?
Sample screenshots from the customer portal.