According to recent reports, roughly 96% of all commercial code contained open source in 2022. Indeed, when it comes to technological breakthroughs, one of the most powerful driving forces behind innovation is open-source projects.  
Whether it's in tech, like the popular Mozilla Firefox browser and widely adopted Android operating system for smartphones, or in home automation, like the smart Home Assistant platform, or in gaming, navigation, healthcare, and education, many of the conveniences that enrich our daily lives emerged from the powerful, collaborative efforts of open source.  
This is all thanks to passionate developers from all walks of life who devote countless hours of their personal time creating some of the most influential software from which we all benefit. 
Zenlayer stands with these selfless developers in their commitment to empowering open-source projects worldwide. 
Open source has revolutionized the digital landscape 
Open-source projects are software which have their source code made available to the public for anyone willing and capable to examine, tweak, augment, and distribute. Because open-source projects are a collaborative effort and easily accessible, they provide a unique opportunity where developers with varying levels of expertise can come together to learn from each other and broaden their experience while tackling real-world challenges. 
They embody transparency, cooperation, and accessibility – three ethos encapsulated in Zenlayer's core mission of working alongside businesses and industry partners to deliver connectivity solutions that improve accessibility the world over.  
Benchmarking network performance with Globalping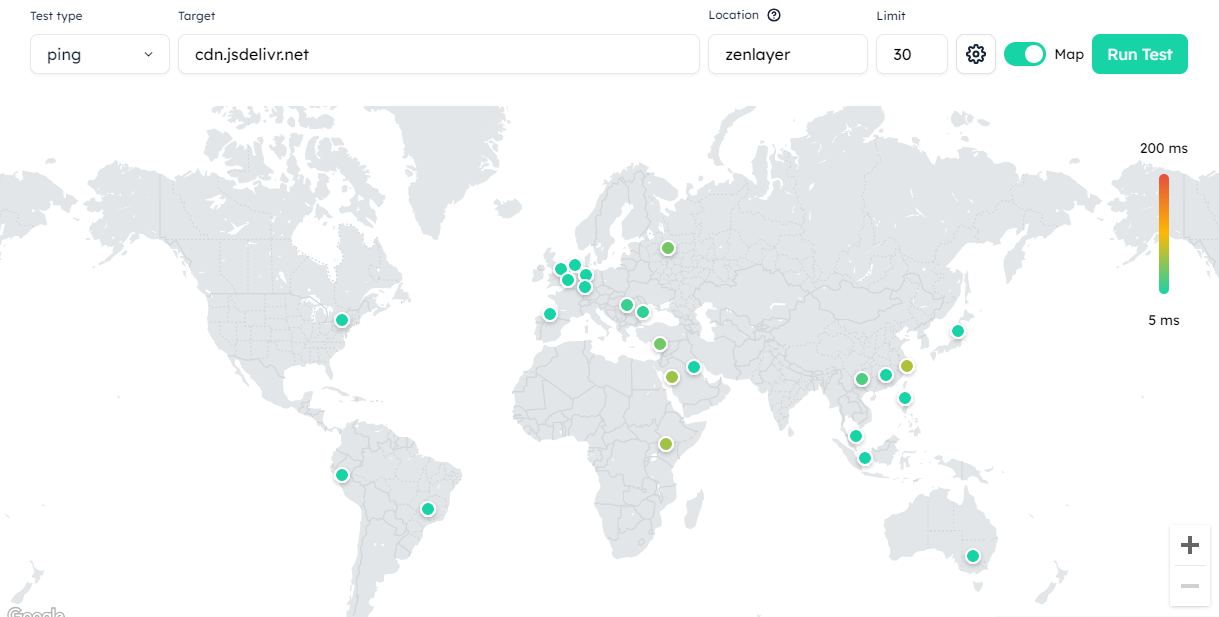 Globalping (globalping.com) is an open-source, network-monitoring platform developed by jsDelivr, a free content delivery network (CDN) that hosts open-source files. Globalping's goal is to "provide a free and simple service for everyone out there to make the internet faster"—a mission that perfectly aligns with Zenlayer's commitment to powering a better-connected world.  
The platform lets users perform global latency tests by running networking commands like ping, traceroute, dig, curl, and mtr on an extensive network of probes distributed worldwide, serving a wide audience that range from tech professionals diagnosing and solving networking issues to DevOps teams monitoring global performance. It's an invaluable tool for technical support, companies managing distributed networks, and CDN/DNS clients comparing providers for their service. 
Individual users also benefit from Globalping as a tool to help optimize home networks and even check for censorship in various countries. 
Zenlayer's commitment to open source 
As a leading cloud technology provider that strives to help organizations deliver seamless digital experiences to global users, we understand the importance of network performance and the profound impact of open source on our collective progress. We've made it our mission to nurture and champion open-source projects worldwide like Globalping. 
As our world becomes increasingly interconnected, businesses and individuals alike depend on reliable, high-performing networks for their day-to-day. Whether it's video conferencing, online gaming, food ordering, connecting with loved ones over social media, or massive enterprise data transfers—a solid network infrastructure underpins all these activities.  
This is why we were more than happy to contribute resources across the U.S., South America, Europe, the Middle East, Africa, and the Asia-Pacific to help Globalping expand its operations. This support enables the platform to collect real-time data on network performance from an even wider range of global locations.  
Our commitment to helping individuals everywhere optimize their digital experiences fuels our passion to advance Globalping's cause. Effective network performance enhancement starts with a comprehensive understanding of the factors that affect it. This initiative empowers users across the globe to freely diagnose and address network performance issues using an extensive network of probes. Zenlayer's contributions will help Globalping extend its reach, ensuring that more people can benefit from its invaluable platform. 
Our unwavering support for open-source projects like Globalping exemplifies the power of collaboration between infrastructure providers and the open-source community. As citizens of our rapidly accelerating digital age, we believe that fostering open-source projects for a better future is our collective responsibility.  
Join us in supporting the open-source movement 
Supporting initiatives like Globalping and embracing the open-source movement helps pave the path for a world of boundless innovation. Let's unite our efforts to ensure that tomorrow's digital landscape transcends barriers to become more connected, accessible, and inclusive for all. Together, we can shape a future where advancements in technology benefit not just the privileged, but every person in our interconnected global community.