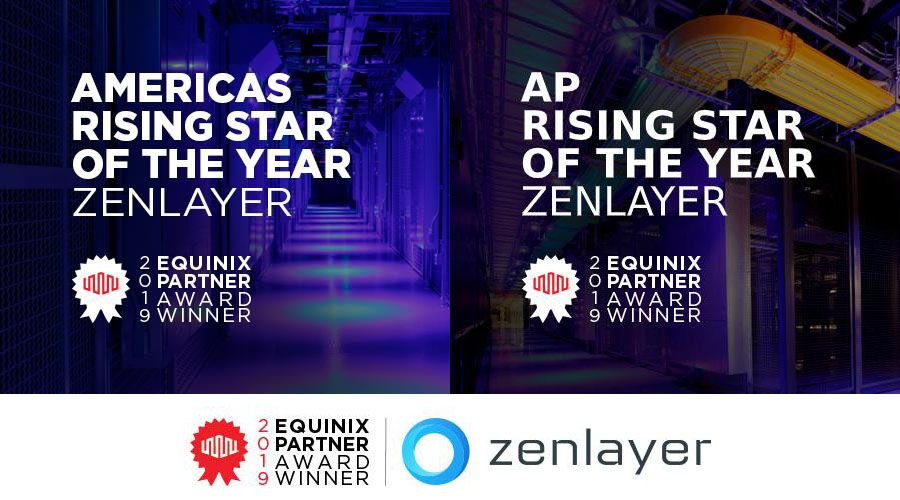 This is a particularly special honor to share: Equinix has given out their 2019 Partner Awards and Zenlayer has been named both Americas Rising Star of the Year AND APAC Rising Star of the Year! This is the first time Equinix has awarded a company in multiple regions.
We're extremely proud of this tremendous accomplishment and thank all the Zenplayers who worked so hard over the last year to make the partnership such a success.
This recognition comes just one year after receiving Platinum Partner status and two years since reaching Gold Partner status. One of the many ways Zenlayer has partnered with Equinix is through our custom solutions for gaming companies. To learn more and read the case study, visit our gaming network research solutions page.
"We've always believed that the "Power of Three" drives optimum partnership value. With three or more partners, you have an ecosystem. And cultivating the vibrant ecosystems that fuel digital business is what the Equinix Partner Program is all about. Whether they are collaborating to build hybrid multicloud infrastructures or to deploy software-defined networking solutions at the edge, Platform Equinix® partners are continuously working together to co-create new integrated solutions that fuel the digital ambitions of enterprise customers around the world." – Greg Adgate, Vice President of Global Partnerships & Alliances at Equinix.