When it comes to VPN services, one of the most advertised features is the number of servers and locations. Just look at the claims made on the home page of five of the most popular VPN providers (as of May 2023):

Why are these VPN providers shouting the number and location of their servers from the rooftops? Because server location can be a significant factor when it comes to staying competitive in the VPN market. 
Big players, like those listed above, know that more locations = more users. That's why they're focused on building out distributed infrastructure that enables them to expand their user base and enhance user experiences. To meet rapidly evolving user expectations and ensure long-term retention, it's now more important than ever for VPN providers to be able to offer a robust selection of server locations around the world. 
Why do users care about VPN server locations?
Having servers in many locations not only lets VPN users access geo-restricted content from anywhere, but also provides a buffer against downtime and service disruptions by helping distribute peak-hour traffic and unexpected spikes from DDoS attacks. 
The speed and performance of user connections can also depend on the location of VPN servers. A user connected to a server halfway across the world will likely experience much slower speeds and greater latency than someone connecting to a VPN server located in the town over. Moreover, depending on the peering agreements (or the lack thereof) between ISPs, VPN traffic that has to travel across long distances through multiple networks is more likely to be bottlenecked by compounded inefficiencies along the way. 
Offer users more locations with Zenlayer!
As a global provider of edge cloud services, we have data centers in 110+ cities across 50+ countries worldwide, including many in hard-to-reach locations like LATAM, MENA, South Asia, and Southeast Asia. 
Emerging markets boom with potential customers but are particularly challenging for VPN providers to expand into because of fragmented ISP availability and suboptimal network infrastructure. Fortunately, Zenlayer is equipped with the experience, technology, and local expertise to help you successfully expand your VPN service to any market.
Our competitively priced bare metal servers come in a wide range of specifications from single Intel Xeon E3/E5 Processor with 32 GB of RAM up to dual Intel Xeon Gold Processors with 512 GB of RAM. 
If you're looking for an even more cost-effective and highly customizable option, we offer VMs that range from 1-core with 2 GB of RAM all the way up to 64-core with 128 GB of RAM that are perfect for testing out your services or key markets.
Best of all, Zenlayer Bare Metal and Zenlayer Virtual Machine instances can be deployed in minutes around in the world using zenConsole and give you peace of mind with 24/7 live tech support that responds to inquiries within 15 minutes.
Read on to see an overview of what we have to offer VPN providers looking to expand into the largest up-and-coming regions around the world.
LATAM (Latin America)
We offer cloud compute in the following locations: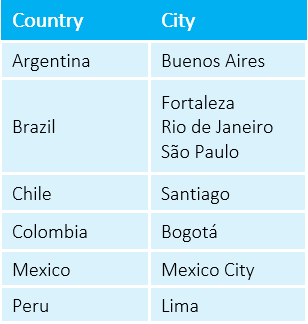 Improve user satisfaction in South America with servers in Buenos Aires, Bogotá, Lima, and Santiago, where our nodes are directly connected to our hub in São Paulo via our ultra-low latency global backbone. Users in Central America can benefit from connecting to our nodes nearby in the U.S. (Miami) for accelerated access to their favorite content.
MENA (Middle East and North Africa)
We offer cloud compute in the following locations: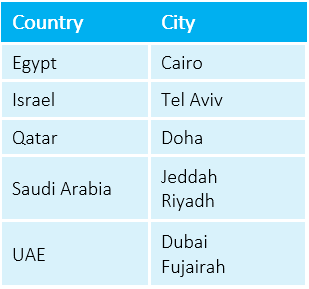 Give users in MENA a speed boost with direct connectivity to major regional ISPs. Not only can we help improve the performance of your service in the countries listed above, but we can also reduce latency and enhance reliability for all users in this region through our nearby hubs in Marseille, France and Frankfurt, Germany — where most of the ISPs in MENA interconnect.
South / Southeast Asia
We offer cloud compute in the following locations: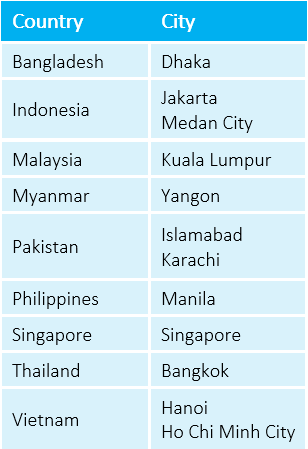 In South Asia, you can maximize the performance of your VPN service with connectivity to the major ISPs in Bangladesh and Pakistan such as Jio, TATA, Vodafone, and more. Our ultra-low latency global backbone directly connects our nodes in Dhaka, Islamabad, and Karachi to our hub in Singapore to give users smoother digital experiences.
In Southeast Asia, we can help accelerate your last mile with connectivity to local ISPs throughout the region as well as our global transit hubs in Hong Kong and Singapore. User traffic can be routed directly to various tier-1 carriers for seamless streaming experiences.
Why choose Zenlayer?
Zenlayer's premium global network of 280+ edge nodes and 5,400 peers across 6 continents combines the best blend of local carriers to provide up to 40% lower latency and jitter than public clouds. Host your VPN apps and services close to your users with Zenlayer Bare Metal and Zenlayer Virtual Machines to give them silky smooth digital experiences.
If you want to grow your user base and expand your VPN service to more locations around the world, talk to one of our solution experts today!