About the author
Jeff Ji is a Product Solutions Manager at Zenlayer. With nearly 10 years of experience in cloud and infrastructure solutions, Jeff enjoys helping clients from a wide variety of industries achieve business assurance and drive new innovations. He's always looking for new ways to create more value for our clients and their users.
Introduction
As we explained in part one of this series, service providers and applications are increasingly using real-time communications (RTC) to enable live interactive video transmissions.
In this post, we'll explore some common technical challenges facing RTC service providers and applications — and how to overcome them using Zenlayer's global RTC infrastructure.
Challenges Faced by RTC Service Providers and Applications
Lack of network reliability 
All apps involved in RTC scenarios need reliable and efficient networks. The demand for network reliability is extremely high, and any downtime — even for just a second— is unacceptable. However, this is extremely difficult to achieve in areas with underdeveloped internet infrastructure. 
Limitations of public network optimization
Improving poor network environments through protocol optimization requires significant technical investments and research, resulting in relatively low efficiency. It cannot completely solve problems such as high latency, reliability, and jitter when connecting to the network. It also highly depends on the local ISP's IP transit service quality.
Integrating and expanding network resources 
Quickly integrating and expanding network resources is a complex undertaking. It becomes even more difficult when these resources come from multiple manufacturers. 
Staying competitive 
To compete in today's crowded digital market, service providers and application developers must operate with great efficiency and minimize latency. Maintaining a competitive advantage in global routing and scheduling, protocol optimization, and network transmission quality can be a challenge.
Limited knowledge of global infrastructure
Service providers and RTC application developers focusing on their core business may lack experience in building global infrastructure, especially in areas such as carriers, data centers, and public cloud connections. As a result, their decisions might not factor in actual operational and performance data.
Zenlayer: A global service foundation for RTC 
It's possible to overcome all these challenges by working with Zenlayer, which offers a leading RTC infrastructure solution that leverages the company's massively distributed edge nodes, private and dedicated network backbone, and acceleration capabilities. 
Zenlayer helps customers achieve global coverage, expand seamlessly, enhance network reliability, improve operational efficiency, and enjoy more flexibility in RTC infrastructure building scenarios. It provides dedicated RTC service resources and network services to enhance user experience.
With Zenlayer, RTC service providers and applications can benefit from:
✅ New access-side optimization options: This works by combining an anycast routing component with network optimization to reduce latency and improve reliability.
✅ Ready-to-use network capabilities: This integrates with RTC platforms through protocol compatibility, API connections, and service-level cooperation. Businesses benefit from a reliable acceleration network based on global dedicated lines for seamless communication with RTC platforms and easier expansion.
✅ Highly reliable network assurance: Global network intelligent scheduling, route selection, fast route switching, and multidimensional transmission quality indicator analysis can be quickly integrated by RTC platforms to ensure that customers won't have to worry about reliability.
✅ Disaster recovery plan for RTC:  A complete, instantly delivered disaster recovery plan outside the RTC platform.
✅ Global media server deployment: Deploy global computing resources and quickly enable edge media servers, mixed transcoding servers, and CDN servers according to business architecture requirements. This also enables fast, dedicated networking through zenConsole.
✅ Targeted construction recommendations: Targeted guidance and data to help make informed decisions about infrastructure design and construction in global RTC deployments. 
A closer look at Zenlayer's RTC solution
The Zenlayer RTC infrastructure solution consists of two parts: Hyperconnected Real-time Network (RTN) and RTC Media Globalization.
1. Hyperconnected RTN Solution
This Solution enables full-link empowerment of the RTN network, providing comprehensive support for access network optimization, intelligent scheduling of transmission networks, media server networking, CDN transcoding and streaming, and high-speed and reliable cross-regional connections.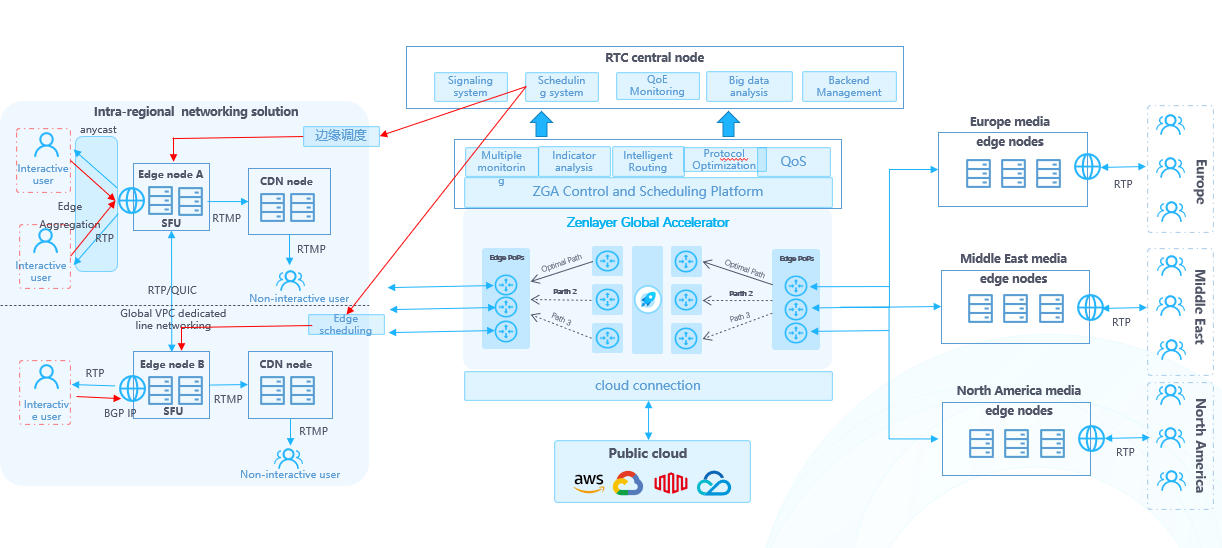 Network optimization
This minimizes poor user experience in weak network environments. Using anycast access, Zenlayer can divert user-side access traffic to avoid a range of issues such as instability, unreliability, and unpredictable latency that may occur during public network transmissions. Additionally, the network optimization chain is strengthened with the support of strategies at the transport protocol level.
Intelligent scheduling interface
Customers can gain immediate access to efficient collaborative scheduling capabilities. This includes global network intelligent scheduling to ensure optimal business routing, intelligent multidimensional transmission quality metric analysis, and interface docking with customer and vendor RTC platforms, giving them instant access to global acceleration capabilities.
Cross-regional network acceleration
To ensure the best global network experience, customers get access to Zenlayer's 280+ PoP nodes covering 110+ cities, 50+ Tbps network capacity, 800+ ISP partner vendors, and a IP transit network that reaches over 85% of the world's internet users in <25 milliseconds.
2.  RTC Media Server Globalization solution
This solution uses Zenlayer's global compute resources to provide convenient delivery of RTC global media servers. Edge media servers, mixing and transcoding servers, and CDN servers can be selected and quickly networked in the console depending on the business's architectural requirements.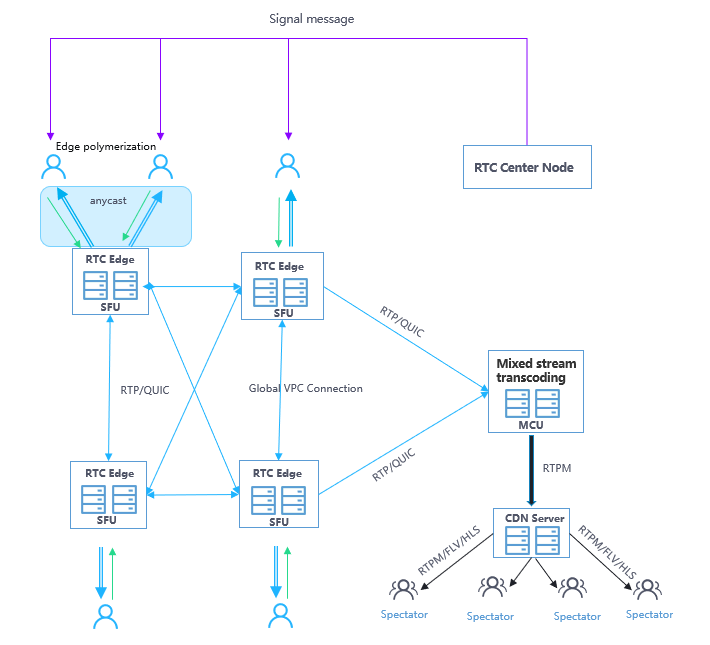 Access multiple configurations
Multiple configuration types of bare metal and VM servers are available based on different architecture requirements. They can act as edge media servers, mixing and transcoding servers, and CDN servers, and can be quickly delivered through the console or API.
Simplify media server networking
Media server networking is made easy, facilitating rapid construction of various types of media network architectures. Support is provided for the quick construction of two-layer or three-layer networks between media server nodes in different regions, with computational and network resources being unified for activation and management. This eliminates the need for complex processes such as deploying dedicated lines or renting circuits.
Access BGP resources
High quality BGP bandwidth resources are available globally, with efficient access capabilities and closer routing to end users.
Server cascading and edge aggregation support 
Support is provided for media server architecture design. Global real-time network performance data such as server support for the number of users and predicted latency from end users to edge servers are provided. This ensures an optimal recommendation for edge aggregation and performance assurance and gives customers data to help them make informed decisions when using edge nodes in different regions.
3. RTC Signaling Globalization solution
Zenlayer also offers an RTC Signaling Globalization solution, which enables dynamic data acceleration and ensures a smooth user experience for signaling communication scenarios such as initialization, room entry, and message exchange through Zenlayer's global accelerator service. 
This solution accelerates global signaling return, signaling synchronization, and interactive messages.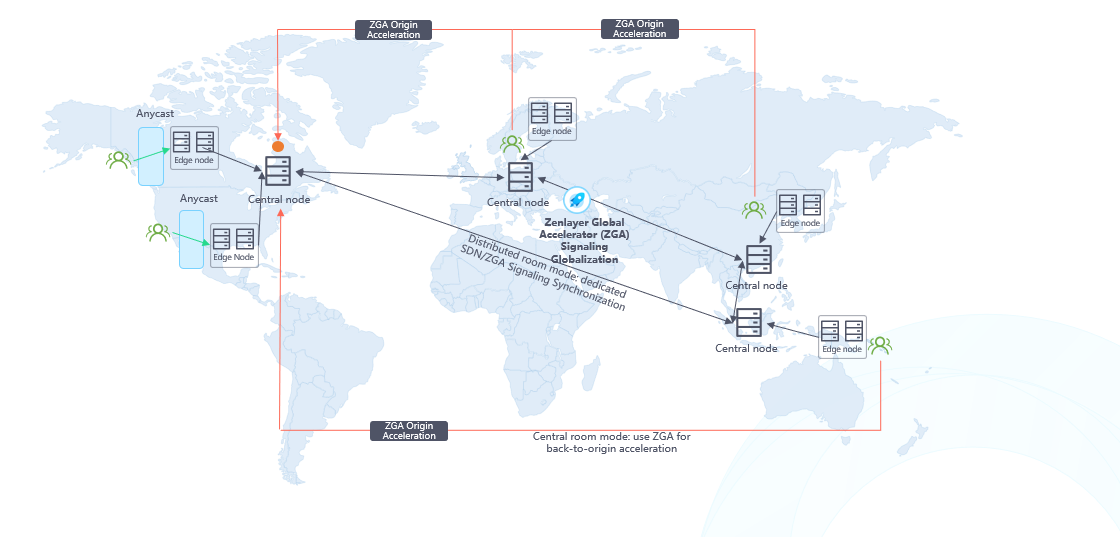 Want to learn more about how Zenlayer can support your global RTC service? Contact the team today.