The Global Internet Technology Conference (GITC) 2018 · Southeast Asia, hosted by Zenlayer, Telin Singapore and Kirin Club, was held June 26 – July 1, 2018.
During the trip, we toured Singapore's leading data centers, immersed ourselves in the Indonesian market and networked with industry professionals from Ucloud, Sogou, Xiaomi, Cheetah Mobile, Agora and more. Attendees had the opportunity to share their digital experiences in Southeast Asia and discuss overseas network deployment strategy.
Delegates from International Data Corporation (IDC) also attended the conference and shared key insights on the Southeast Asian market.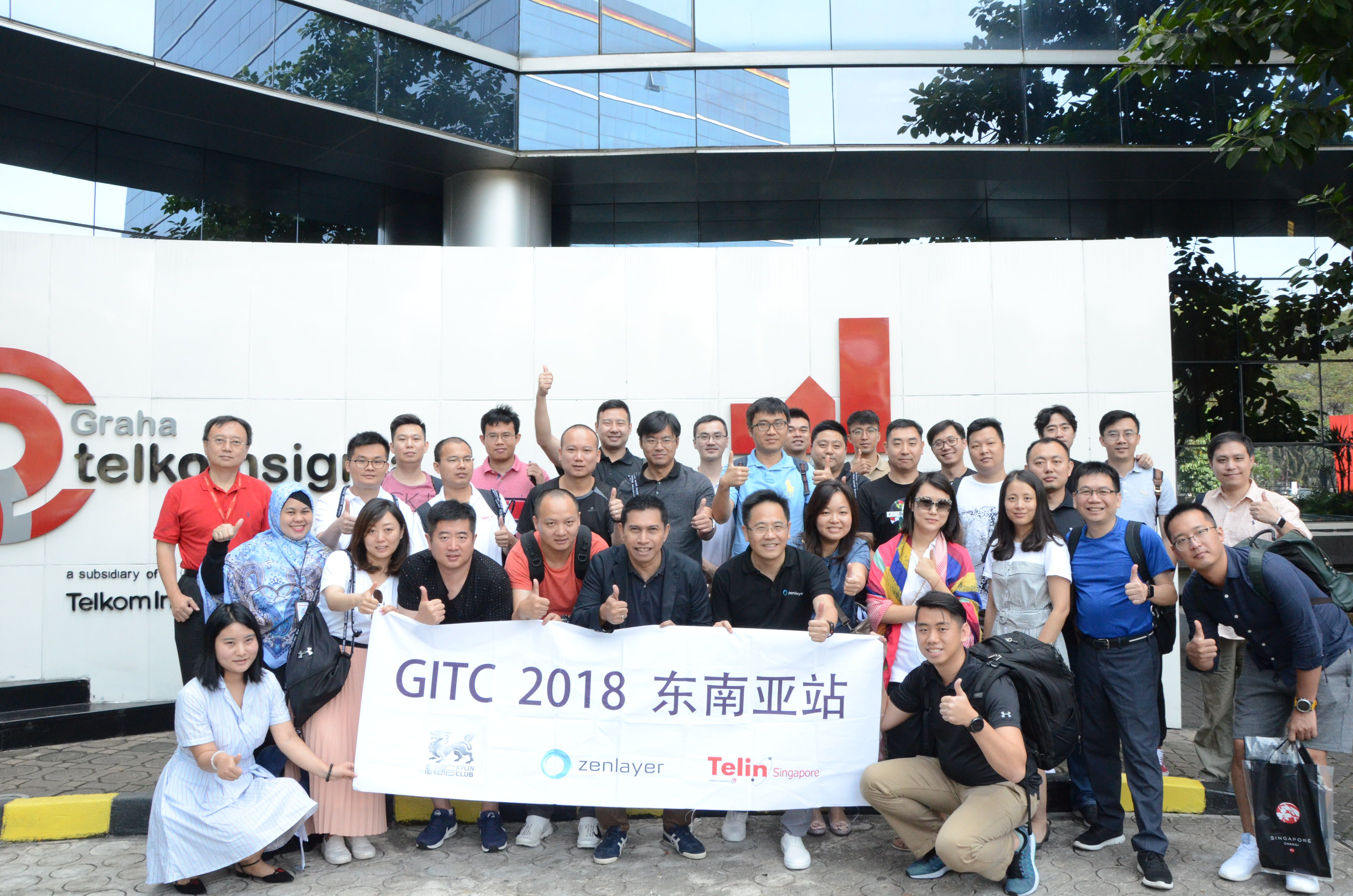 The rise of digital in Southeast Asia
Technology is quickly reshaping the way we work, and there's no place quite as exciting as Southeast Asia when it comes to digital. The diverse region made up of 11 countries is home to 650 million people and has a fast-growing digital economy forecast to hit $200 billion by 2025, according to Temasek and Google.
Southeast Asia's e-commerce market is expected to grow by 261% from 2016 to 2021, with 3.8 million new users coming online each month. Rising disposable incomes and a burgeoning young population in the region are significantly contributing to this market growth.
In addition, increased smartphone and Internet penetration are contributing to a boom in the digital entertainment sector, which will grow at nearly triple the rate of China. Mobile and PC gaming alone are projected to surpass $4 billion by 2021.
Smart city policies and initiatives are also boosting the digital transformation of Indonesia, Malaysia, Singapore and Vietnam, and promoting brisk economic growth in Thailand and the Philippines.
What keeps Southeast Asia's CTOs up at night?
Malaysia: Security and IT services
Indonesia: Market competitiveness, new competitors
Philippines: Security and IT project implementation
Thailand: Rising costs, IT procurement model
Vietnam: Rising costs and security
While 97% of CTOs believe that IT brings about business efficiency, opportunities and transformation, 34 percent are concerned about cost. IT is still viewed by many as a cost center rather than a business partner, and IT teams are fighting to demonstrate value in digitalization. This reflects that Southeast Asia's IT ecosystem is still in a developing stage.
However, in the past 18 months, there has been a policy-led force driving digital transformation. Malaysia and Thailand are quickly ramping up digital adoption, while 22-28% of countries like Singapore are at the vanguard of digital transformation and 40% remain in the early stages of digitalization.
Though enterprises have not readied themselves to fully integrate digital products and services and offer a unified customer experience, IDC expects that most Southeast Asian companies will undergo digital transformation by 2027, and 75% of them will reach a mature stage. Countries at the forefront of digital investment today include Malaysia, Singapore and Thailand.
Southeast Asia digitalization policies
Indonesia: Smart cities are an integral part of Indonesia's Industry 4.0 initiative and demand for automation and IoT solutions is strong; these factors are significantly increasing demand for data center and cloud capacity in the country.
Philippines: The National Cyber Security Program 2022, a five-year national cybersecurity strategic framework, was designed to strengthen cybersecurity across the country. Though the Philippines' state of cybersecurity is in an infancy stage, the initiative signals that cybersecurity is now a nationwide priority.
Singapore: In 2017, the government launched a $2.4 billion IT Invitation to Bid (ITB) and announced technology spending shifts from infrastructure to digital, data analytics, cybersecurity and smart applications.
Thailand: The Thailand 4.0 plan was introduced to attract more tech investment and create new opportunities for startups and SMEs, which will receive support from incubation centers and e-commerce knowledge sharing programs.
Vietnam: The Vietnamese government is aggressively seeking to modernize its IT infrastructure with its National Development Program Tech 2020 initiative. Hanoi, Ho Chi Minh City and Da Nang are aiming to begin smart city operations by 2020.
To learn more about the IT requirements that come alongside Southeast Asia's digital growth opportunities, contact a Zenlayer expert today.