MOBAs (multiplayer online battle arenas) are, as the name suggests, online battle arenas that pit teams of players against each other. In this subgenre of strategy games, players fight each other in real time with the ultimate goal of destroying the enemy team's base.
Competitive in nature, MOBAs require concerted effort from all team members and involve frequent player interactions. Real-time combat and communication between players in a MOBA game demand extremely low latency. Indeed, in the heat of battle, even a slight delay in signal input can turn the tide of battle.
Deploying battle arenas closer to players can vastly improve game performance and overall responsiveness. This is why in a typical MOBA setup, the architecture consists of core nodes and edge battle nodes. The core nodes host the game's logic, data, and handle administrative functions such as player logins, authentication, billing, matchmaking, etc., whereas the edge battle nodes host the instances where actual combat takes place and handle player movement, communications, and interactions with the game's environment. 
Zenlayer Virtual Machines (VMs) are perfect for hosting edge battle nodes as they can be quickly and easily deployed near global users and scaled elastically according to player count and business demands.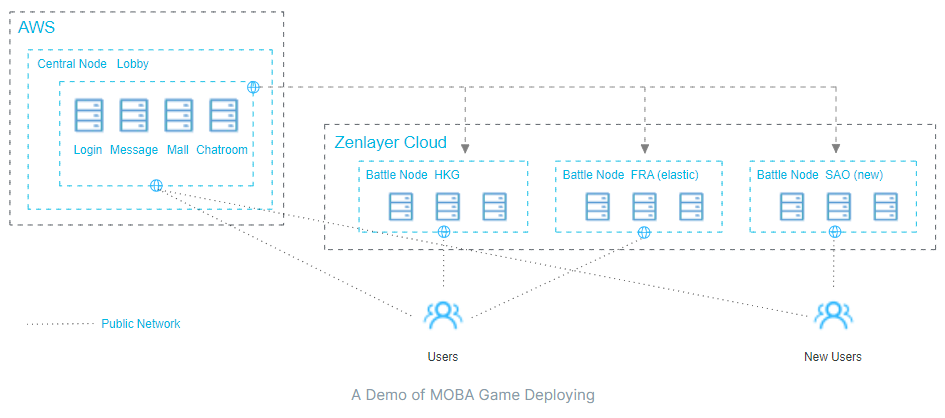 Below, you'll see the steps to set up a MOBA game on Zenlayer VM. For the purpose of this demo, let's assume that our core node is deployed on a public cloud—AWS. We'll be deploying the edge battle nodes on Zenlayer's network in Hong Kong (HKG), Sao Paulo (SAO), and Frankfurt (FRA). 
If this is your first time deploying Zenlayer VM, please see this guide for the basic steps for deployment. Otherwise, let's get started!
Configuring Zenlayer VM instances

Follow the steps below to configure the HKG, SAO, and FRA edge battle VM instances on zenConsole. 

 
1. Select a pricing model
For longer-term edge battle nodes, which in our case will be the node in HKG, it's more cost-effective to go with a monthly subscription. The flexibility offered by our pay-as-you-go pricing model is ideal for elastic edge battle nodes.

2. Select an instance model
To give players a more seamless gaming experience, we recommend that you use a general-purpose model or upgrade to a high-performance model with 8 cores of vCPU and 32 GB RAM.

3. Select an instance image (or create your own)
You'll want to select an image that's friendly to most games. The Windows operating system (OS) is the most common choice due to its wide compatibility and support. Be sure to install the latest OS updates and drivers on your virtual machine instance to ensure optimal performance and compatibility.

If desired, you can also create your own image. 
4. Configure storage
We recommend a 200 GB system disk for your game server. If your game has higher storage demands, you can add additional disks here.

5. Review your instances
Look over your instances to ensure proper configurations. Here are the three Zenlayer Virtual Machine instances that we've configured to serve as edge battle nodes in SAO, FRA, and HKG.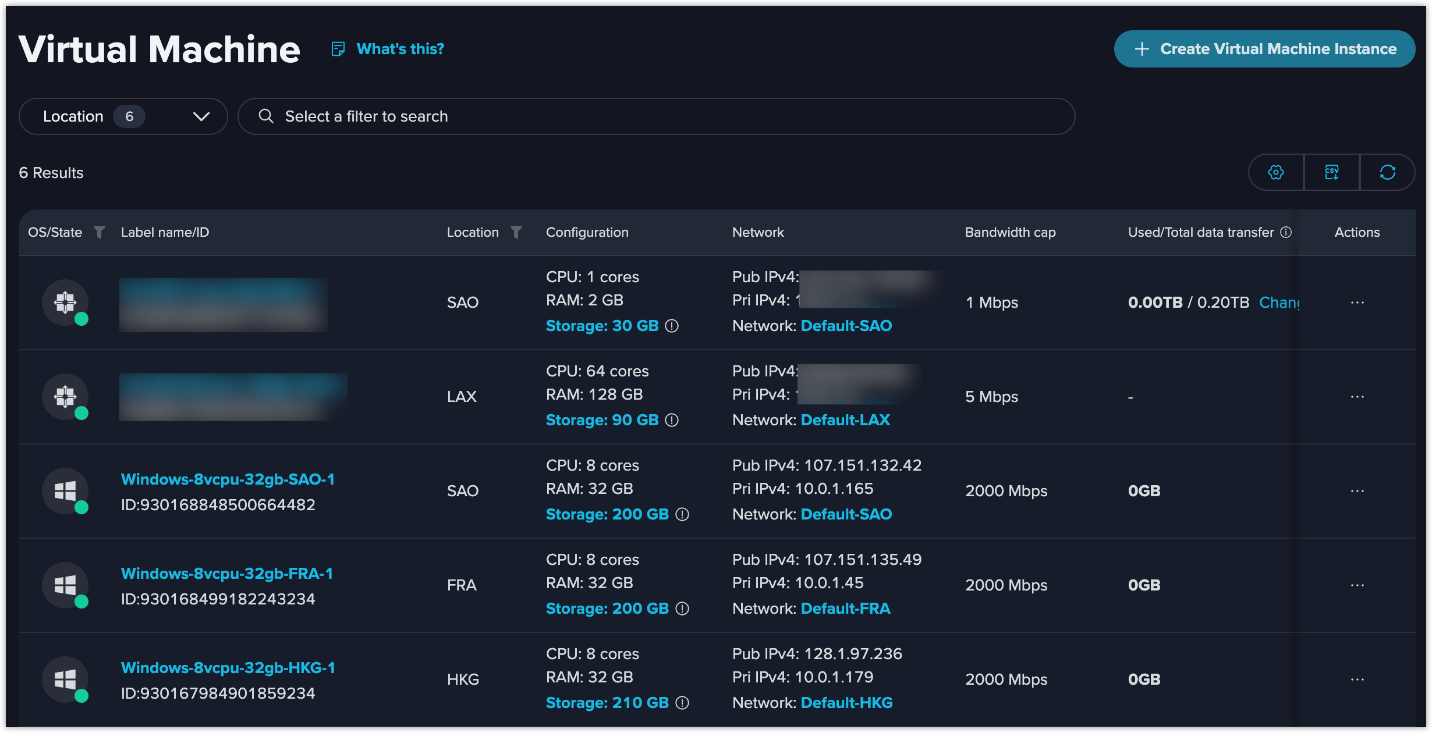 Next steps
After your servers are up and running, be sure to configure network settings as needed to ensure a reliable connection between your instances and the network. 
To deploy your core node on AWS, check out their documentation.
After connecting your core node to your edge battle nodes via a public network, you can configure security groups to manage inbound/outbound traffic and protect your instances from potential cyberthreats. 
Final thoughts…
Please note that best practices for setting up a MOBA VM game may vary depending on the specific game and virtualization environment. Understanding the requirements of the game and the functions of the virtualization software will help you build an environment that best suits your needs.
Try Zenlayer VM today
Get more flexibility and keep your business agile. Run your applications close to your end users for more responsive digital interactions and upgrade their experience further with our ultra-low latency network. It takes just a few clicks to provision your Zenlayer VM on zenConsole, and you'll instantly get a high-performance instance without deploying any infrastructure.
You can count on our global network of 280+ points of presence (PoPs) and 10,000+ peers to help you bring your apps and services close to your users for silky smooth digital experiences, no matter where they are. To get started, talk to a solution expert today.
For the fastest service, check out zenConsole!