IP addressing is the process of assigning an IP address - a unique numerical label - that names a device on the internet or in a local network. The four main IP addressing methods are unicast, multicast, broadcast, and anycast. 
Are you wondering how each of these methods work and how they differ? Read on to find out! 
Unicast  
A one-to-one method used when there's one sender and one receiver.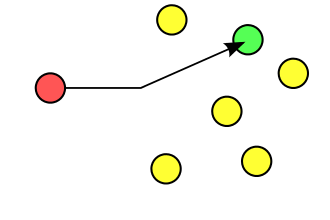 *Image sourced from wikipedia.org 
It's like when you (sender) are talking to your favorite coworker (receiver) in a crowded office (network).  
Most of the time when you're browsing a website online, unicast comes into play where your device is the receiver and the website's server is the sender.   
Multicast  
A one-to-many method used when there's one sender and multiple receivers.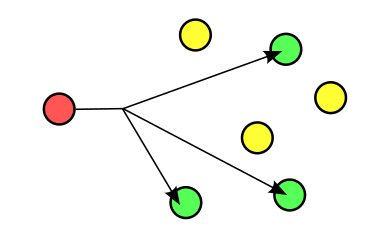 *Image sourced from wikipedia.org 
Imagine if, in the scenario above, you (sender) are sharing a spirited discussion about a recent movie release with a group of coworkers (receivers) around a table in the lunchroom of your office (network). 
A common example of multicast is email. You can send an email to a selected group of people from your entire list of email contacts.  
Broadcast  
A one-to-all method used to transmit data from one sender to all other connected receivers.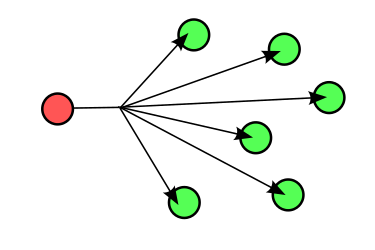 *Image sourced from wikipedia.org 
This would be like if you (sender) stood on your desk and shouted out to everyone (all receivers) in the crowded office (network) that a confused bird just flew into the window by your desk.  
An example of Broadcast is an ARP (address resolution protocol) request, where a host device sends out a message to all other devices on the network to check if they're using a particular IP address. 
Anycast  
A one-to-one-of-many method used to transmit data from one sender to one server, usually the closest, out of a specific group of receivers.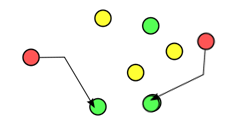 *Image sourced from wikipedia.org 
Going back to the office scenario again, imagine that you're part of your company's HR team (server group). You're usually the go-to person for general HR-related questions, but today you happen to be booked for back-to-back meetings that will take up your entire workday. Ouch. Someone in the office (network) comes looking for you to file a request to bring in their pet alligator for the upcoming pet contest but finds your seat empty. Your boss informs the coworker (receiver) that you (sender) are preoccupied, and tasks an available HR personnel (best/closest server) on your team to answer their question instead. 
Anycast is often used in content delivery. If your business currently employs a CDN (content delivery network) service, your provider can use anycast to deliver content more efficiently to your users.  
It lets a group of servers anywhere in the world advertise a single, shared IP address. When a user sends a request to that IP address, anycast will evaluate all available routes from those servers to the user.  
It does so by employing a distance/performance cost analysis that prioritizes data delivery based on receiver proximity and server health. This translates to faster speeds, lower latency, and a much smoother experience for your users.  
Zenlayer Global Accelerator now supports Anycast!  
We're happy to announce that we've added anycast support to Zenlayer Global Accelerator to bump up the speed, availability, and reliability of your network. Plus, it helps mitigate DDoS (distributed denial of service) attacks by design. To learn more about this exciting update and how your business can benefit, check this out.