Bare metal servers may not be the newest or flashiest technology on the market, having been around for over a decade. But they are remarkably effective at enabling cloud computing, which is why adoption is steadily rising among clouds. This model combines the computing power of bare metal with cloud-like flexibility. With bare metal servers, you can run high-performance, specialized, and latency-sensitive workloads in hosted, single tenant environments, resulting in enhanced performance and reliability.  
But finding and deploying quality bare metal services can be challenging, especially in multi-tenancy environment. In this article, we'll explore some common pitfalls that companies encounter with traditional bare metal servers— and how Zenlayer Bare Metal Cloud (BMC) provides unique features to help overcome them. 
Common challenges of traditional bare metal server deployments 
Performance bottlenecks 
Companies often attempt to deploy bare metal servers with insufficient connectivity and storage throughput. As a result, performance bottlenecks and service disruptions are common with traditional bare metal server infrastructure. To address performance issues, companies often attempt to add third-party networking services. But this adds additional complexity, and results in higher costs. 
Security issues  
Companies also face heightened security risks with traditional bare metal servers. One of the biggest threats that companies face is distributed denial of service (DDoS) attacks, which can knock servers offline and bring operations to a standstill. 
High costs  
Traditional bare metal colocation (colo) can also result in higher monthly expenses, lengthy planning and provision times, and complicated support and maintenance. For example, some providers will make you pay for underutilized resources, which can be costly for businesses that experience fluctuations in workloads. 
Why Zenlayer Bare Metal Cloud is Better 
Zenlayer bare metal cloud is a next-gen bare metal offering for hybrid and multi-cloud environments. BMC was purpose-built to offer superior performance and availability in the cloud, and help businesses overcome deployment and maintenance challenges. 
 
Here are a few ways that Zenlayer bare metal cloud avoids the above-mentioned issues. 
- Zenlayer BMC integrates seamlessly with Zenlayer Cloud Networking, which offers global full-mesh networks and direct, ultra-low latency connectivity. Cloud Networking avoids public internet congestion and reduces latency by up to 40% during peak periods, while also futureproofing connectivity needs. 
- BMC contains enhanced security features, including high quality DDoS protection. 
- It comes with flexible, monthly pricing with no vendor lock-in or cancellation penalties. 
- BMC also offers single-tenant isolation, visibility, and control through dedicated compute instances.  
- Servers support applications that require high core counts, large amounts of memory, and high bandwidth and low latency network. You can build cloud environments in Zenlayer bare metal servers with significant performance improvements over other public clouds and on-premises data centers.​ 
- Standardized bare metal server with a variety of specs to choose from based on CPU cores/frequency, storage, memory and network interfaces.  
- Available globally at edge locations for provisioning in minutes via the Zenlayer console 
- All servers have a standard API to integrate with Zenlayer's BMC networking, cloud networking and public networking services. 
Additional benefits of Zenlayer Bare Metal Cloud 
Global coverage 
Not all bare metal service providers offer global coverage into hard-to-reach places. But Zenlayer Bare Metal has the widest global coverage, providing on-demand servers in more than 40 countries, including fast-growing emerging markets such as Southeast Asia, India, China, South America, and others.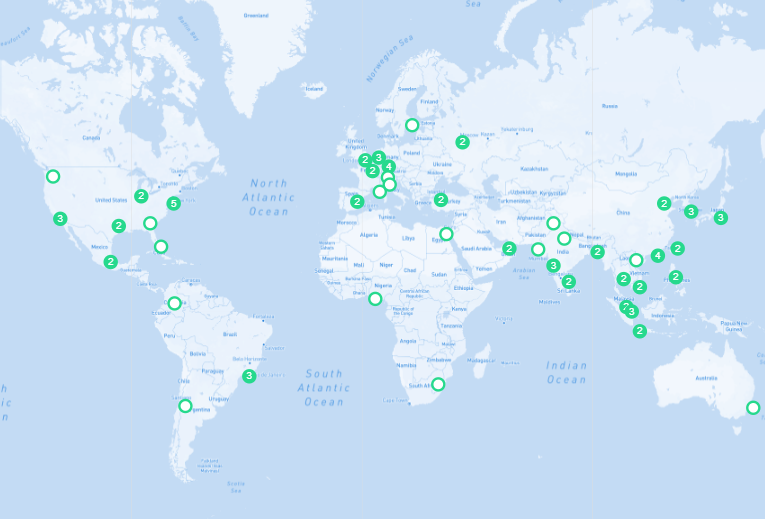 Flexible deployment options  
Select from the following deployment options for Zenlayer BMC. 
 - Zenlayer BMC legacy IaaS  
Customized bare metal servers with Intel Xeon CPUs, HDD/ SDD with SATA/NVMe storage, 10G/25G network interfaces, and enterprise-grade memory.  
 - Zenlayer BMC VPC IaaS 
Standardized bare metal servers with a variety of specifications to choose from based on CPU cores/ frequency, storage, memory, and network interfaces. BMC VPC IaaS is available globally at edge locations for rapid provisioning through the Zenlayer console.  
Instant scalability  
Bare metal services can sometimes be difficult to scale horizontally and on-demand, making it difficult for companies that need to go to market quickly. The Zenlayer Console makes it easy to add or remove servers at any time or move resources to other regions. This is ideal for growing businesses, and companies with unpredictable workloads. 
Zenlayer Bare Metal Cloud: A one-stop-shop for hybrid bare metal cloud  
Zenlayer BMC provides everything you need to thrive when using bare metal cloud for hybrid cloud including lightning-fast connectivity, DDoS protection, and deep access into global emerging markets. With Zenlayer BMC, your business can deploy hybrid clouds with better performance and greater reliability.  
To learn more, visit our product page or contact us today.