Brazil is the fifth largest country in the world by total area and home to the most biodiverse and environmentally significant ecosystem in the world, the Amazon Rainforest.  
 You might have known that Brazil is a colossal country by land area…but did you know that it's also a global giant in its number of gamers, internet users, and time spent on social media?   

A proper giant in more ways than one 
Brazil is home to the world's fifth largest online population with over 165 million internet users as of January 2022, thanks to the country's quickly ballooning internet adoption. Around seven out of ten Brazilians are online, and nine out of ten online Brazilians access the web on a daily basis.(1) 
 
Social media in Brazil 
In particular, Brazil's online population embraces social media like no other, crowning the country king in the Western Hemisphere with the most time spent on social media daily. Its citizens clock an average of 3.7 hours in daily social media use - nearly 50% more time than the global average of 2.5 hours. Of significant note, a whopping 79.5% of Brazil's internet users rely on their favorite social media platforms for information about brands and products they're interested in when making purchase decisions.(2) 
As social media marketing is generally much cheaper than traditional avenues, this represents an incredible potential for businesses willing to keep up with their social media presence and ad placements. Coupled with the $40 billion Brazilians spent on online consumer goods and purchases this year - an increase of 29% over the previous year(3) - a solid social media strategy could pay off in spades. This is especially true for smaller businesses that might normally have a more challenging time breaking through the noise from competitors in other channels.  

Video streaming in Brazil 
Videos are another medium that Brazilians frequently use to source brand and product information. 
55% of Brazilians say that YouTube is the best place to learn about products and how they work. Google's internal research found that 68% of internet users in the country claimed they watched YouTube videos about a product or service before a purchase. Since Covid, the country saw an increase of 450% in the number of searches for live streams(4) as Brazilians turned to the internet for some much-needed human engagement - opening up unique opportunities for brands to reach out directly to their consumers in real-time.  
 As it turns out, live interactivity worked remarkably well for companies that took the plunge. 36% of Brazilians surveyed say that they use live streams to do their cost/benefit analysis when deciding on a purchase, and 62% of the followers of the top YouTubers say that they'd buy products from brands the Youtubers recommended.(5)  

Gaming in Brazil 
Outside of e-commerce, Brazilians are avid gamers and represent the fifth largest (do you spot the trend?) market by the number of players in 2022. 68% of the adults surveyed play some type of mobile game, and the average mobile gamer spends around 5 hours on their mobile devices each day.(6) The country ranks number ten for year-over-year gaming revenue growth and is projected to increase annually at 11.49%.(7)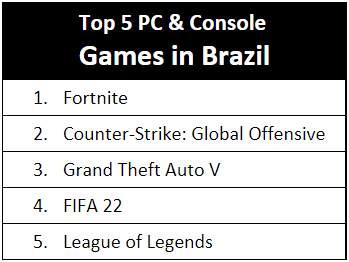 What games are Brazilians playing, you ask? Online multiplayer games! In fact, all five of the top PC and console games Brazilians enjoy are either completely online with no offline single-player options or have richly integrated online multiplayer elements.(8) 
Three of the games listed above are online games that require quick responses and low latency. It should be noted that the only two games that are not entirely online - Grand Theft Auto V and FIFA 22 – include online extensions or seasons that allow players to meet up and game together. 
Whether it's engaging with each other on social media, interacting with their favorite stars on live streams, or playing online games together, these activities beautifully encapsulate the Brazilian identity - one of strong communities and shared values.  
Thinking about expanding into Brazil? 
It goes without saying that Brazil is ripe with potential and opportunities for businesses that can think outside of the box. If you want to expand your business into this land rich with culture, history, and biodiversity in South America, you need more than just a network - you need an expert. 
Before we expanded our network to Brazil, users in the region had to connect through Miami or another U.S. east-coast point of presence (PoP). We now have six PoPs in the country that reduce latency for Brazilians by an average of 100 milliseconds.  
Whether you want to reduce latency to your users in the region, break into an untapped market, or build a new business there from the ground up - we've got your infrastructure covered. Our global coverage lets you deploy your applications directly in Brazil, close to your users, and our massive private backbone network helps minimize latency so you can deliver great user experiences - every time.    
If you need help setting up a strong foundation in compute and networking to grow your business, talk to a Zenlayer solution expert today! 
References: 
(1) https://www.statista.com/topics/2045/internet-usage-in-brazil 
(2, 3) https://datareportal.com/reports/digital-2022-brazil 
(4, 5) https://www.thinkwithgoogle.com/intl/pt-br/tendencias-de-consumo/jornada-do-consumidor/live-commerce-youtube-consumo-entretenimento-resultados/ 
(6) https://www.digitalturbine.com/blog/consumer-research/under-the-microscope-mobile-gaming-in-brazil 
(7) https://www.statista.com/outlook/dmo/digital-media/video-games/online-games/brazil  
(8) https://newzoo.com/insights/trend-reports/key-insights-into-brazilian-gamers-newzoo-gamer-insights-report