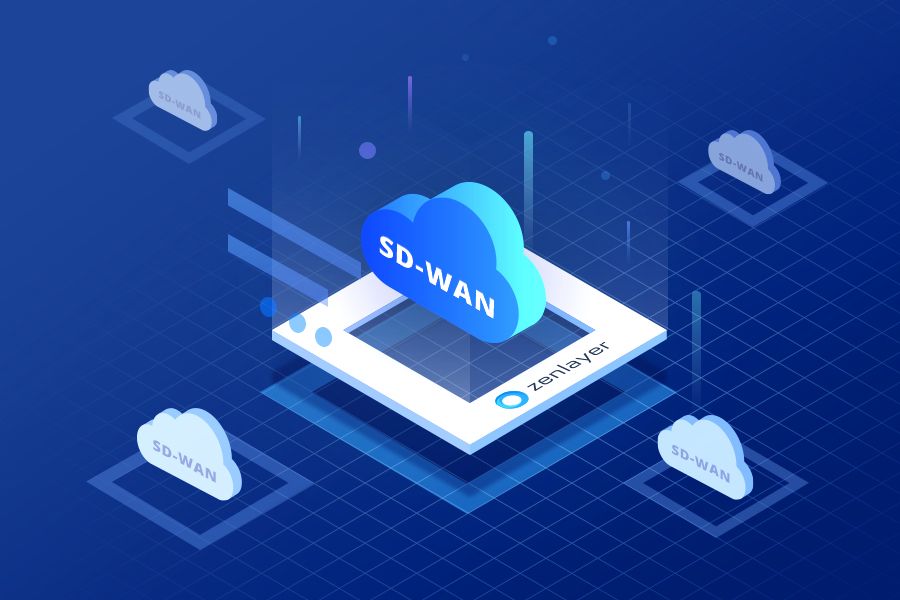 An SD-WAN solution that stands out from the cloud. You could build your virtual private cloud network.
An SD-WAN is an SD-WAN is an SD-WAN, right? Wrong. While SD-WAN might seem like "just" software and a network, there's actually a lot of differences between solution providers. Below is a brief summary of how Zenlayer's implementation of SD-WAN works and how our product compares with our competitors.
How SD-WAN works
We've covered both how SD-WAN works and why you'd want SD-WAN before, of course, but in summary: SD-WAN (Software-Defined Wide-Area Network) allows you to quickly build a network that is both reliable and agile. By using software to control the network, the burden of propagating routes and addresses is removed from individual devices. At the same time, the administrator gains detailed control of how data is transmitted through use of a simple-to-use portal.
Zenlayer SD-WAN takes advantage of our Cloud networking services and global private backbone to offer not just a controlled network but a fast, secure one. Deployment typically involves setting up a single device, called a CPE (Customer Premise Equipment), in each office or location that will be connecting directly to the network. These CPEs are usually delivered pre-configured – all you need to do is plug them in. Alternately, you can skip physical devices altogether and make use of virtual CPEs. vCPEs are particularly useful for establishing connections with Clouds.
More than an overlay
Speaking of Cloud networking and SDNs, that's one of the major ways Zenlayer SD-WAN stands out. Many SD-WAN solutions are effectively just a software "overlay" that goes on top of your existing infrastructure – they give you only the portal and the control. Zenlayer offers SD-WAN in conjunction with a global private network. There's no hassle to getting SD-WAN up and running, and no congestion on the network. To borrow a phrase, it "just works." Very few other SD-WAN providers can make that claim.
Modular
With Zenlayer, you don't need to take the whole package. You can pick and choose the pieces that work best for you, or even add on parts from our other solutions, like cloud networking, bare metal cloud, and hosting. Already have your own portal or CPEs you want to use? No problem. Our engineers will work with your existing equipment to make sure everything is properly integrated and functioning as designed. We can even work with other SD-WAN providers; for example, if you're already using an SD-WAN solution in Europe and want to add connectivity and control in eastern Asia. It's similar to the complete control you have with a leased line, if a leased line came with dedicated solution support.
Maximum value
Zenlayer boasts the largest backbone network of all SD-WAN providers while offering the most flexible payment plans in the industry. You can change your plan on a monthly basis. Know you'll need less bandwidth in the summer? Just change your bandwidth cap for July and August, then boost it again in the fall. We also have options for "burstable" traffic if you anticipate high usage at a certain time, like for an event or new release.
WOW service
The biggest differentiator of all, however, isn't something tangible. Zenlayer provides unparalleled support for all of our products, and SD-WAN is no exception. Not only is that support available 'round the clock all year, but our engineers are experienced SD-WAN veterans. No matter what your situation is or what challenges are involved, our sales reps and engineers will work with you to find a perfect solution for your unique circumstance.
Ready to give Zenlayer a try – literally? Sign up for our free 30-day trial and experience the Zenlayer virtual private cloud network. Want to talk to someone? Contact us any time. You'll notice I've avoided naming our competitors in this piece, but our sales reps are happy to go into specific details with you if there's another solution you're looking at and need a direct comparison for or are wondering how Zenlayer services can supplement their offerings. It's just another way we provide service that wows.