Esports and online multiplayer games have exploded in popularity in the last decade. This industry is growing particularly fast in emerging markets like Southeast Asia, India and Brazil, where internet user growth is much higher than in Western countries. In North America, internet users have grown 125% from 2010 to 2020. In contrast, internet users in Asia have grown 305% from 2010 to 2020. Streaming live tournaments are also creating massive audiences watching their favorite teams compete against each other.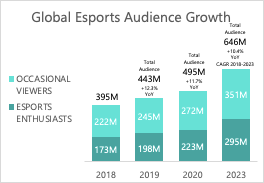 According to Newzoo, Esports viewers topped 495 million in 2020 and are expected to reach 646 million by 2023. Furthermore, companies are pouring marketing funds in Esports through sponsorships and advertising. The global Esports market was valued at $950 million in 2020 and is expected to grow to $1.6 billion by 2023. Since the COVID-19 pandemic, companies are expediting the process to provide high-performance online games and high-quality virtual esports tournaments around the world.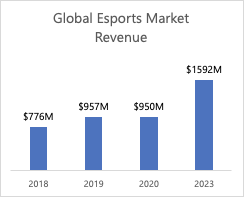 This massive expansion creates IT challenges that need to be addressed to continue supporting growth. One challenge is that multiplayer games such as Fortnite, Warzone and Apex Legends frequently push mandatory updates. Unlike smartphone or app updates, players are required to update their video game before they can start playing. This is for several good reasons: sometimes game-breaking bugs are discovered that can be exploited to give players an unfair advantage. Sometimes new maps and characters are added to the game. Sometimes a new "Season" is introduced with added storylines or weapons. Regardless, players must update before they can enter the game. 
This is particularly a problem with data-intensive games where updates can easily measure 100GB. Imagine coming home after a long day of work. You're making dinner and looking forward to play videogames with your friends, only to discover that your system needs to perform an update which takes 6 hours to complete! This creates a negative user-experience. Slow updates are also negative from the game developers' perspective, since they essentially lock out all users when pushing an update. So, the number of players who can play after an update release is limited by the download speed of the developers' servers. 
To exacerbate the problem, most online multiplayers are developed in the United States and Asia, but played all around the world. Out of the currently 10 most popular online games, 8 games are developed in California, yet these games are immensely popular in Asia! For example: the highest ranked players based on tournament earnings for League of Legends and Starcraft 2 are mostly South Korean. Even more, Esports are so popular in Asia that they will be included in the multi-sport event of the 2022 Asian Games. These gamers need fast download speeds to maintain instant access to their favorite platforms. Developers cannot focus on the national market alone. They need to think about reliably delivering content to emerging markets like South East Asia, South American, the Middle East and Africa as well. 
Yet another challenge with global live tournaments is delivering contains with extra low latency far below the human cognitive level. Since esports tournaments are played live; all player actions must happen simultaneously. The original solution for esports tournaments was to host them live and have all players travel to this location. This allowed for developers to create a local network with the lowest possible "ping". However, the coronavirus has disrupted this model since large gatherings are not allowed. Online tournaments are still being hosted, so low-latency servers are more important than ever. Demand will continue growing beyond the pandemic, since more casual players are signing up to play online tournaments. Accordingly, low latency is essential for the future of Esports. 
What technologies come in place to tackle these challenges?   
On the infrastructure level, a globally distributed, full-mesh and high performing network backbone is critical. Whether you are on a public cloud already, you may want to consider a hybrid model to improve network performance and enhance the control of your infrastructure, especially in far-reaching markets such as China, India, Southeast Asia and South America. With over 180 edge nodes globally and over 130 in emerging markets, Zenlayer's global private network backbone, for example, is designed to achieve ultra-low network latency in any far-reaching markets while maintaining instant connection and global-scale connectivity with all public clouds and data centers. Many companies are now working with Zenlayer to benefit from the massive international growth of gaming. 
On the platform level, deploying edge cloud services can significantly improve your gamers' experience across borders. Enterprises can instantly improve digital experience for their users by creating a private network on demand. Through Cloud Networking, companies can make instant and dedicated connections to public clouds and data centers. A reliable network can help reduce latency and jitters during peak hours for gamers. Another example is when gamers want to access content, our intelligent routing directs their request to the nearest server. Companies can improve gamers experiences by using a Content Delivery Network (CDN) or Zenlayer Global Accelerator (ZGA) to distribute content from one point of origin to servers located near users around the world. This allows game developers to optimize updates for areas with high demand like in South East Asia and South America, and it results in all gamers having their updates at roughly the same time. This technology also reduces peak load on main servers, which creates a more reliable update delivery network and minimizes server downtime issues. Such benefits make edge cloud services like Cloud Networking, CDN and ZGA strong solutions for Esports and Online Gaming companies with IT challenges looking to operate globally. If you want to learn more about how Zenlayer can help your business expand globally, schedule a free consultation here.