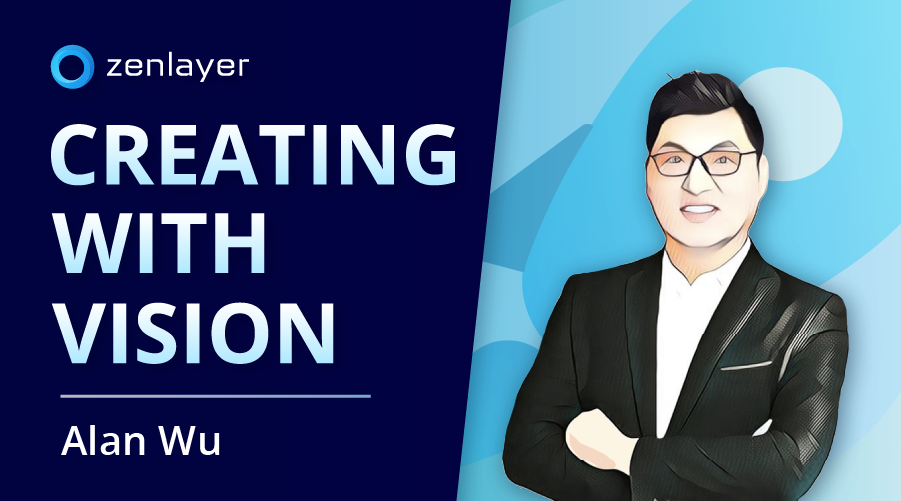 Zenlayer recently launched the groundbreaking Zenlayer Global Accelerator (ZGA) platform, which dramatically improves digital experience for multinational companies. This was a massive project, and it wouldn't have been possible without the tireless efforts of product manager Alan Wu. 
The Zenlayer marketing team was recently able to steal a few minutes of Alan's time, to shed some light on his role and discuss what keeps him striving for excellence. It's only noon, and Zenlayer Product Manager Alan Wu has already put in a full day of work — talking to clients, meeting with team members, and reviewing product plans. And his day is just getting started.
Such is the life of a product manager at a leading technology firm. The job is fast paced, demanding, and requires a unique ability to identify market conditions and company needs while also balancing technical support, product iteration, and marketing considerations. In many ways, product management is a never-ending job.
Alan Wu would not have it any other way. A computer science major with 10 years of experience under his belt, Alan is a technology whiz who has a passion for building and solving problems, and a goal of changing the world through a product. This is something he gets to do every day at Zenlayer, where the company is striving to make the world a more interconnected and prosperous place. 
Alan came to Zenlayer to tackle new challenges and advance his career. Little did he know, he would gain the opportunity to spearhead one of Zenlayer's most important products to date.
Alan Wu's Technical Background and Product Management at Zenlayer

Zenlayer: Please provide some background for our readers. How did you start your journey in the cloud technology industry?
Alan Wu: From a young age, I knew that I would pursue a career in technology. I graduated from a leading university with a degree in computer science, and began my career researching and developing public cloud infrastructure. During that period, I learned a lot about product innovation and developed many ideas. This led me to a career in product management — and I haven't looked back since. 
ZL:  What excites you about product management in technology?
AW: Look at just about any successful technology company, and you'll find dedicated product managers working hard behind the scenes. Technology giants like AWS, Azure, and Google Cloud all have talented product managers helping them prioritize updates and navigate the ever-changing industry. In many ways, product managers are on the front lines of innovation, and working to advance the way we connect and communicate. 
As a product manager, I also hope to continue bringing innovative solutions to market that improve the way global users experience the internet. 
ZL: You could work for any tech company. What excites you about Zenlayer? 
AW: It is common for product managers in the technology industry to suffer from burnout, fatigue, and boredom. To prevent this, you need find companies that empower you, and enable you to do interesting and important work. 
Zenlayer is a perfect fit because I identify with the company's core mission of bringing connectivity deeper into emerging global markets. I also appreciate the positive and innovative culture, and the work that we are doing daily. It is a special company, and I am proud to be a part of it.
Product Management Lifecycle Planning Process at Zenlayer
ZL: Product managers also tend to struggle with planning and prioritizing. In one recent study, 15% of managers cite this as a top challenge. Is this a problem that you face as a product manager? And with so many connectivity challenges out there – and so little time – how do you and your team know what to tackle?
AW: Planning and prioritizing is very challenging indeed, and it's something we put a lot of effort into here at Zenlayer. In general, our approach is to quantify the value of demand and rank updates by value. In addition, we create long-term goals and devote about 30% of our energy to continuously improving user experience. By taking this approach, we can always ensure that our time and energy is going into the right places.
ZL: Please talk about the process that led up to the idea for ZGA. 
AW: The need for ZGA presented itself through multiple rounds of conversations with customers and colleagues.  As time went on, it became clear that companies with globally distributed users [SW1] are struggling with poor user experiences across websites, applications, and cloud systems. At the same time, companies cannot typically deploy large, private, high-performance networks. 
This discovery led to the idea for ZGA — a lightweight, easy-to-use application acceleration product that guarantees optimal system performance, with flexible, self-service billing. In addition, traditional delivery methods are usually inefficient and create a poor customer experience. So my goal was to provide a self-service option to customers through a platform so that they can have a complete experience of acceleration in just a few minutes.
ZL: What were some initial steps you took to get the Zenlayer Global Accelerator project off the ground?
AW: After I produced the idea for ZGA, I then built the MVP version for a client. The project was an immediate hit, and a clear indicator that this product was worth bringing to market. After gaining the customer's approval, my focus then shifted to turning ZGA into a new product. We then spent several months researching customer pain points and potential usage scenarios.
Team Support, Motivation, and Passion Behind Zenlayer Global Accelerator
ZL: How did you gather support from your Zenlayer Global Accelerator team?
AW: I reached out to internal team members, to let them know what I was working on and gather support. The idea quickly caught on, and team members started to get excited. More people eventually joined forces to make the product a reality. It helped that early on, we made it a point to unify our goals so that everyone could see that what we are doing is a meaningful thing. 
ZL: What is your motivation and passion behind ZGA?
AW: Digital transformation is taking over the world. Yet, there are many places where it is still difficult or impossible to enjoy fast, dependable, and secure digital experiences. We are aiming to close this gap with ZGA, through an innovative product that improves the internet experience — and life in general — for global consumers across all regions. 
With the help of ZGA, end-users in emerging markets like Southeast Asia and Latin America can enjoy the same high quality digital experiences as developed markets like New York City and London. 
Encouragement and Suggestions for Other Product Managers to Make an Impact
ZL: Any suggestions for other cloud product managers who want to make a substantial impact with their ideas? How should they go about this?
AW: My advice is to plan and think about future needs when you create products. Set up long-term goals and take small steps at first. Along the way, you should try and fail quickly, and make timely adjustments. Most importantly, you need to believe in your products, and stay the course. 
For more information on how ZGA works, check out this short video. And to learn more about what Alan and the team are working on, visit the ZGA product page.
 [SW1]Not necessarily that they have to be multinational companies- as far as their users are distributed; ZGA can help them