In Hosting in China: How to Choose a data center Part 1, we explored whether or not it makes sense to host in China based on a corporation's needs.  Here in Part 2, we will discuss the network and data center landscapes in China.
Telecom carriers and network coverage in China
To be able to choose an appropriate data center for hosting in China, we must first gain a basic understanding of the country's telecom industry.
There are three major telecom carriers and a handful of minor ones in China.  The three juggernauts are: China Telecom (CT), China Unicom (CU), and China Mobile (CM).
China carriers are still largely regulated by the government.  When the government restructured the telecom industry in 2002, CU was given the rights to operate in the northern ten provinces (Heilongjiang, Jilin, Liaoning, Shandong, Shanxi, Inner Mongolia, Hebei, Henan, Beijing Municipality, and Tianjin Municipality) and CT the rest of China.
Although the strict territorial regulations have since been lifted, infrastructure is not easily built and thus the landscape has not changed much.  China Mobile, however, has been catching up quickly in recent years and has gained considerable market share.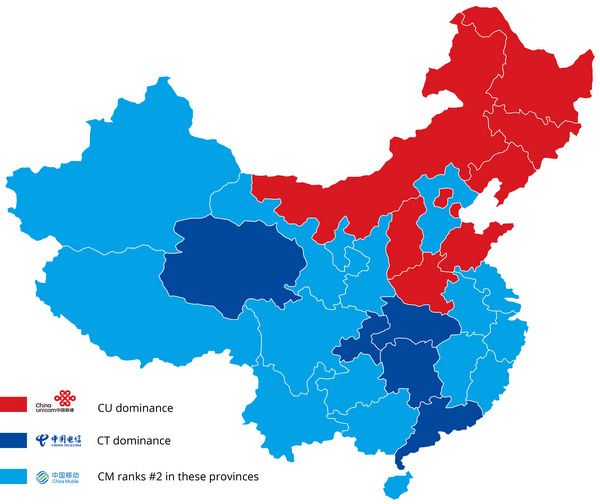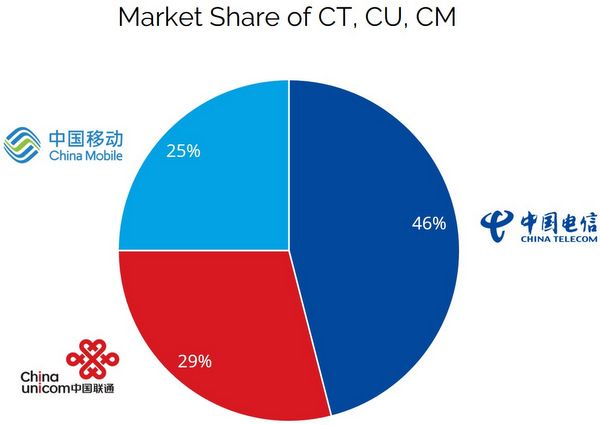 Other minor carriers include China Education and Research Network (CERNET), China Mobile Tietong, Beijing Gehua CATV Network (BGCTV), China Netcom (CNC), and China Broadcasting Network.
Data center providers in China
Data center providers generally fit into three categories:
1. Telecom carriers
2. Independent domestic data center providers
3. Global data center operators in a joint venture with local Chinese providers
Below, we'll look at each in a little more detail.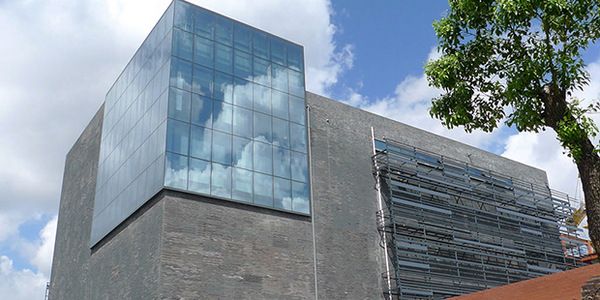 Carrier data centers
Data centers built and operated by CT, CU, and CM are by far the most prevalent in China.  The majority of these data centers only connect to a single carrier (whichever carrier owns the data center).  Infrastructure quality varies by location and can range from Tier 2 to Tier 4.  In general, data centers located in top metropolitan areas (Beijing, Shanghai, Guangzhou, Shenzhen) are at least rated Tier 3.
For details on how data centers are rated, please refer to How are data center tiers classified.
Independent data centers
In recent years, there have been more and more independent providers building and operating data centers.  Some of the most well known providers are 21Vianet, GDS, and Sinnet.  These data centers are generally carrier neutral.  Most are located in major metropolitan areas; only a handful can be found in Tier II and III cities.
Global data centers
Even more rare than independent data centers are those operated by global providers.  Currently, there are two global players in China: Equinix and Telehouse.  Equinix has five data centers in Shanghai; Telehouse has two in Beijing and two in Shanghai.  These data centers are carrier neutral and are generally more expensive than other data centers.
Now that we have a basic understanding of the network and data center landscapes in China, we will look at some of the factors to consider when choosing a data center in Part 3 of this series.