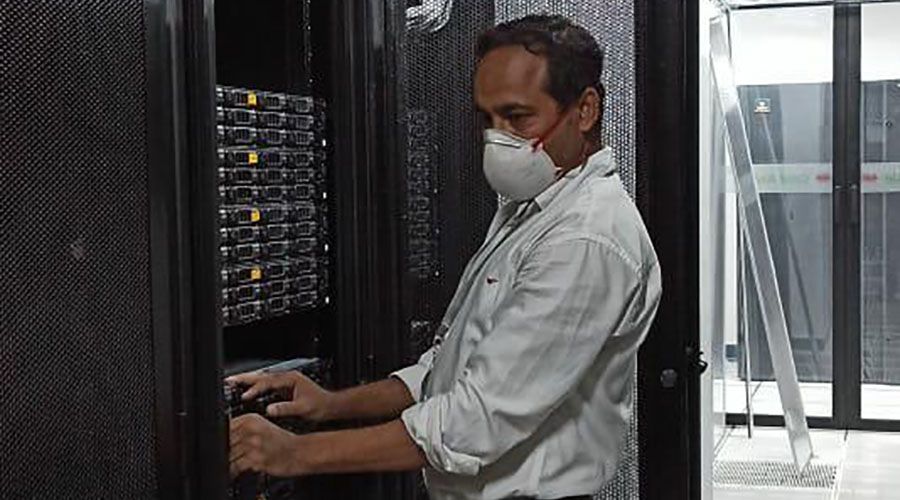 The COVID-19 crisis has hit different countries at different times with different effects. However, in all affected places people have come together to do what they can to help others get through these trying times. Today, Zenlayer would like to honor the hard-working members of our India team, who have been resilient, steadfast, and resourceful in the face of enormous difficulty.
The India team is Zenlayer's newest, with its own office established in Mumbai at the beginning of this year to keep up with Zenlayer's ever-increasing business in the country. Nevertheless, its members have already taken Zenlayer's core values to heart. Led by General Manager Amit Singh, they have particularly embodied our values of "Get It Done" and "Customer First" while ensuring the safety of their health and others.
In addition to using masks and hand sanitizer, the data center engineers have been refraining from traveling via public transportation when possible and working shifts singly to minimize exposure. Despite the additional precautions, the team has still been able to accomplish important deployments for customers. They have used every resource and bit of ingenuity at their disposal to not just satisfy the customer but wow them despite the very difficult circumstances.
Coordinating with data centers, telecoms, and customers during lockdown has required many creative solutions, intense communication, and a lot of old-fashioned hard work. At one point, the team worked for 40 straight hours to accomplish unmounting, transportation, remounting, installation, cabling, and configuration of over 50 servers within a very limited window while still maintaining safety precautions. When a Zenlayer team member talks about "wow" service, they mean it!
Speaking about that herculean task, Amit emphasized that success would not have been achieved without each individual member's efforts. "This entire activity was possible due to teamwork and each member playing his/ her role to perfection. I'm sure this is the first among the many more that you will see from us."
We are immensely proud to call each member of the India team a "Zenplayer" and look forward to seeing how much they can accomplish in the future when this crisis is behind us.