Customers of our layer 7 DDoS Protection can now create and automatically renew SSL certificates for free while using our DDoS Protection Console.  
It's critical for any business operating online to have an up-to-date certificate to remain trustworthy to visitors and avoid the dreaded "Not secure" designation bestowed by popular internet browsers. Expired certificates can drive away prospective customers, return ing shoppers, and pretty much anyone that lands on your website!  
That's why we made it easy and free for you to create your certificate and set it up for automatic renewal. To get started, just follow these simple steps:  
1. Log in to the DDoS Protection Console and navigate to Certificates using the navigation bar to the left.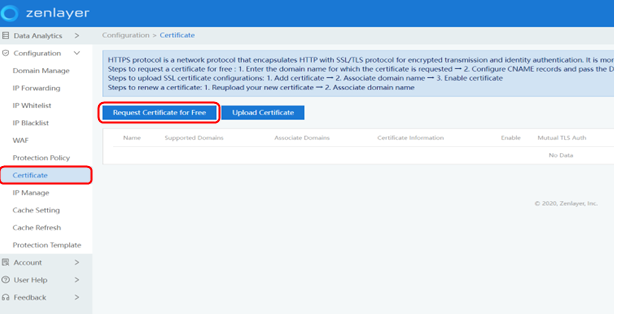 2. Enter the domain name for which you're requesting the certificate, then click on Create a Certificate.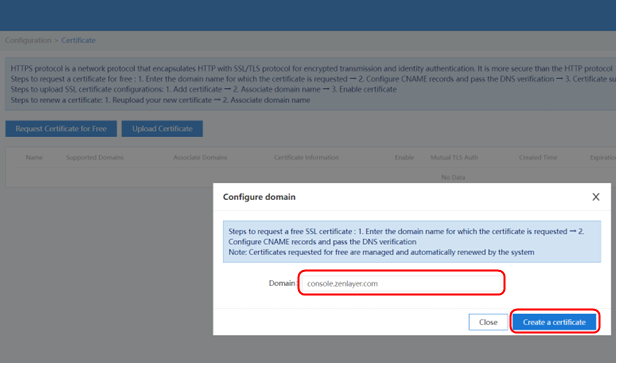 3. Copy your CNAME record by clicking on the  blue icon to its right, then paste the record into your DNS resolver. When you're done, click on Configuration completed - verify now.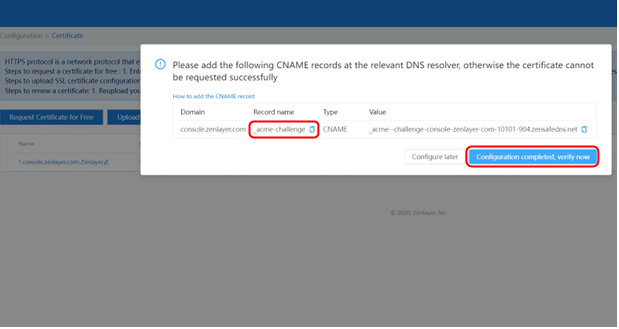 4. Once your CNAME record is verified, you'll be greeted with a message that lets you know your domain name has passed verification. Simply click on Close to complete the process. From there, you can rest easy knowing that the DDoS will automatically renew your certificate for you.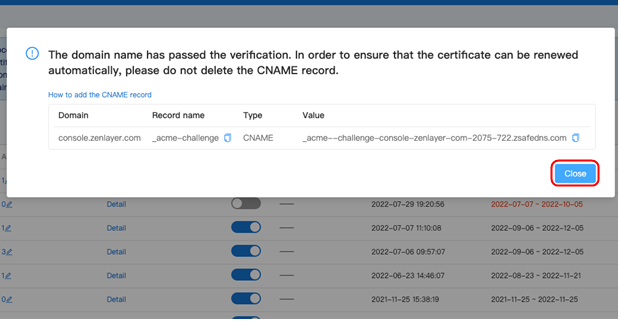 Please note: if you want the console to automatically renew your certificate, be sure to keep the CNAME record in your DNS resolver!  
New to Zenlayer DDoS Protection? Try it out now!   
 Protect your business with Zenlayer DDoS Protection – powered by 13 global scrubbing centers to defend your employees and users from DDoS attacks. In addition, Zenlayer's 2,300+ global transit and peering interconnections help improve your network's performance, latency, and data ingestion. Our comprehensive solution and proprietary algorithms ensure that your bandwidth is spent only on traffic you want.  
Want to get your ultimate peace of mind? Reach out to a solution expert today to get started!