We recently added two new features to Zenlayer Virtual Machines (VMs) on zenConsole to give you more flexibility and a better user experience.
If this is your first time provisioning Zenlayer VM, please refer to this quick-start guide.
Maximize flexibility with pay-as-you-go billing
In addition to monthly billing, you can now choose hourly billing when provisioning Zenlayer VMs. This gives you the ability to pay for what you use and easily scale up or down as needed to optimize resource allocation and cost efficiency.
You'll be able to easily find this new billing option on the Configuration page the next time you provision Zenlayer VM on zenConsole, as shown below.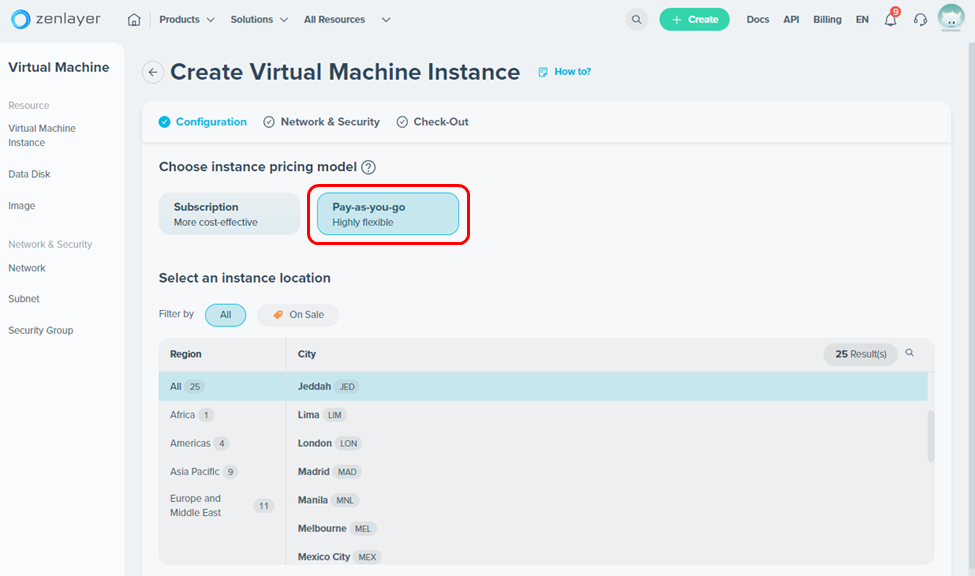 Simply click on Pay-as-you-go to toggle hourly billing, then continue your provisioning process as usual.
Find what you need easier with configuration filters
To help you find your desired Zenlayer VM specifications quicker and easier, we've also added filtering buttons to zenConsole that let you sort available instances by use case.
Like our new pay-as-you-go billing method described above, these new filtering buttons can also be found on the Configuration page when you're provisioning Zenlayer VM.

You can use the five buttons shown above to filter instances by:
All – all available instances in the location selected
Basic compute – instances using shared vCPU resources, making them the most cost-effective option for running basic workloads that don't require a lot of computing power or memory
General-purpose – instances that have a 1:4 vCPU-to-memory ratio, ideal for various workloads that require moderate compute and memory resources
Compute-optimized – instances with a higher vCPU-to-memory ratio, well-suited for more compute-intensive workloads
Memory-optimized – instances with a higher memory-to-vCPU ratio, best for workloads that require large amounts of memory
Try Zenlayer Virtual Machine today! 
Get more flexibility and keep your business agile. Run your applications close to your end users for more responsive digital interactions and upgrade their experience further with our ultra-low latency network. It takes just a few clicks to provision your Zenlayer VM on zenConsole, and you'll instantly get a high-performance instance without deploying any infrastructure.
You can count on our global network of 280+ points of presence (PoPs) and 5,400+ peers to help you bring your apps and services close to your users for silky smooth digital experiences, no matter where they are. To get started, talk to a solution expert today.
For the fastest service, check out zenConsole!