We've recently added a notification function to our layer 7 DDoS protection service to help remind you when your TLS certificate is about to expire. It's critical for any business operating online to have an up-to-date certificate to remain trustworthy to visitors and avoid the dreaded "Not secure" designation bestowed by popular internet browsers.
What is a TLS certificate, and why does it matter?
Transport Layer Security (TLS) is a protocol used on the internet to encrypt (lock) and decrypt (unlock) data to ensure secure transmission, as well as to provide other security features. TLS is an updated version of the Secure Sockets Layer (SSL) protocol and is now the most widely used protocol for web security across the world.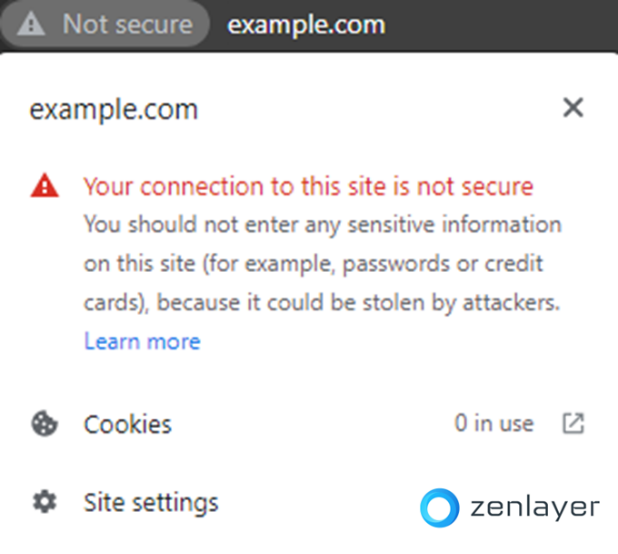 Don't let "Not secure" happen to your website!
A TLS certificate (sometimes still called SSL certificate, or HTTPs certificate) is a data file that holds a pair of keys, public and private, along with the identity of whoever owns the certificate and its associated website. A valid certificate shows visitors that your website is trustworthy, and that any information they submit is secured and encrypted. 
On the other hand, a website with an expired or missing certificate will be flagged as unsafe by most popular browsers and labeled as "Not secure," as shown in the image above. The browser will typically also display a message to visitors that the site should not be trusted with any sensitive information like passwords and credit cards. 
This means that an insecure website will likely scare off prospects looking to sign up for your newsletters, register for an account, or perhaps most importantly – purchase your products. For these reasons (and more), it's critical for any organization that operates online to renew its website's TLS certificate and keep it up to date.
How will I receive these reminders, and how do I enable them?
You can turn on the certificate expiration notifications on ourDDoS Protection Console. If you don't have access to the platform or need any help setting up your notifications, please reach out to our solution experts and they'll be able to set them up for you.
After they're enabled, we'll send you a notification at 30, 15, 7, and 3 days before the expiration of your certificate. You'll also get a final notice on the last day so that you have time to renew your certificate before it lapses.
New to Zenlayer DDoS Protection? Try it out now!
Protect your business with Zenlayer DDoS Protection – powered by 13 global scrubbing centers to defend your employees and users from DDoS attacks. In addition, Zenlayer's 2,300+ global transit and peering interconnections help improve your network's performance, latency, and data ingestion. Our comprehensive solution and proprietary algorithms ensure that your bandwidth is spent only on traffic you want.  
Want to get your ultimate peace of mind? Reach out to a solution expert today to get started!