We recently added new scrubbing centers in Mumbai, India and Taipei, Taiwan for layer 7 Zenlayer DDoS Protection to further reduce the latency of our services in the regions and increase our capacity to defend your network and users from attacks.  
What is DDoS Protection, and why do I need it?  
 Distributed Denial of Service (DDoS) attacks happen when a malicious actor (or group of coordinated actors) tries to take down a server by inundating the target with a flood of sudden traffic. When the target server gets overwhelmed by the attack, its hosted websites and content will load slower. In extreme cases, the server's entire network can completely crash.  
For a more detailed read about DDoS attacks, be sure to check out this DDoS Protection overview.  
DDoS protection helps maximize the availability of your servers and shields your network and users from attackers trying to harm or disrupt your operations. Zenlayer uses scrubbing centers to preserve your valuable bandwidth and user experience by filtering traffic so only those from legitimate sources can pass through to your network.  
What is a scrubbing center, and what does it do?  
 A scrubbing center is, as the name implies, a centralized station where bad traffic is "scrubbed" away and only good traffic remains. It uses intelligent algorithms to analyze and determine whether the traffic it receives is legitimate or malicious. In the event of an attack, traffic is redirected to the nearest scrubbing center to be "scrubbed" clean, then routed back through our backbone network towards its final destination.  
Since scrubbing requires traffic to be directed off and then routed back to your network, the location where scrubbing occurs is key to maintaining user experience. This is because latency is largely determined by location. The further away the scrubbing center is from the source of your traffic, the longer the distance that data must travel. The longer the distance, the higher the latency.  
High latency scrubbing causes the traffic to stall and creates all sorts of unpleasant experiences for users, while low latency scrubbing is often imperceptible from their point of view.  
Where are Zenlayer's scrubbing centers?  
 Zenlayer DDoS Protection currently employs 13 scrubbing centers worldwide, and more will be coming soon. This means that no matter where your traffic is from, there's a Zenlayer scrubbing center close by that can filter and clean it without noticeable delays to you or your users.  
As of this writing, our scrubbing centers are located in these cities: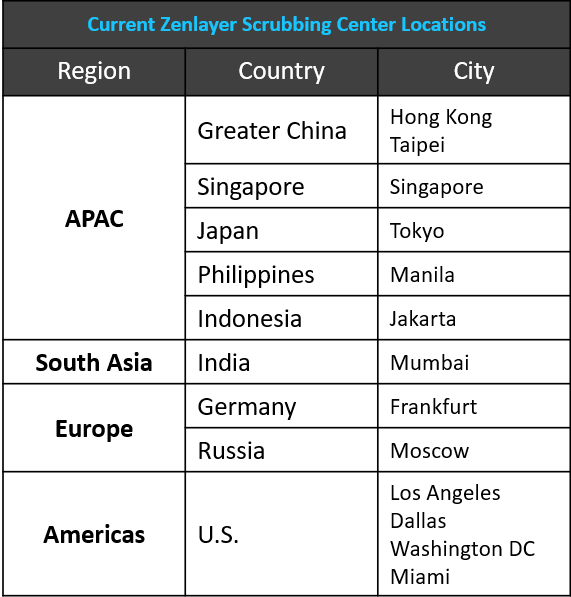 Our mission is to protect your network and users with minimal impact on user experience. That's why soon, we will deploy additional scrubbing centers around the world. This will lower the latency of our global mitigation efforts even further so that Zenlayer DDoS Protection can better serve your business and users.      
New to Zenlayer DDoS Protection? Try it out now!   
Protect your business with Zenlayer DDoS Protection – powered by 13 global scrubbing centers to defend your employees and users from DDoS attacks. In addition, Zenlayer's 2,300+ global transit and peering interconnections help improve your network's performance, latency, and data ingestion. Our comprehensive solution and proprietary algorithms ensure that your bandwidth is spent only on traffic you want.    
Want to get your ultimate peace of mind? Reach out to a solution expert today to get started!