You can now access remote desktop for your Zenlayer Virtual Machines (VMs) via zenConsole. We've recently added virtual network computing (VNC) support to give you more flexibility and accessibility with your VM instances.
With VNC, you can now enjoy convenient remote access, seamless troubleshooting capabilities, enhanced collaboration, and more directly from your VM dashboard in zenConsole. 
What is VNC?
VNC is a convenient tool that enables you to remotely access and control your servers without the need to install any additional clients or software. It lets you view and interact with your VM environment as if you were sitting in front of the physical host machine. It works by transmitting graphical desktop information over the network so that you can access your server from various devices like your laptop, tablet, or smartphone.
What can I accomplish with VNC?
Remote access and administration – administrators can remotely access and manage VMs from any location with VNC, making it particularly useful for distributed teams.
Troubleshooting and diagnostics – IT technicians can use VNC to remotely diagnose errors, perform debugging, and resolve software conflicts without interrupting the experience of the VM user.
Collaboration – multiple team members can connect to the same VM simultaneously through VNC, giving them shared access to the virtualized environment for development, testing, or design tasks.
Legacy application support – by hosting legacy applications within a VM that's accessible through VNC, critical software can continue to be used without the need for dedicated hardware or outdated operating systems.
How do I access VNC with my VM instance?
If this is your first time provisioning Zenlayer VM, please refer to this quick-start guide.
1. To access VNC for your instance, navigate to your active VMs and click on the VM you want to access. In this example, we'll be accessing the VNC for our third VM on the list, as shown below.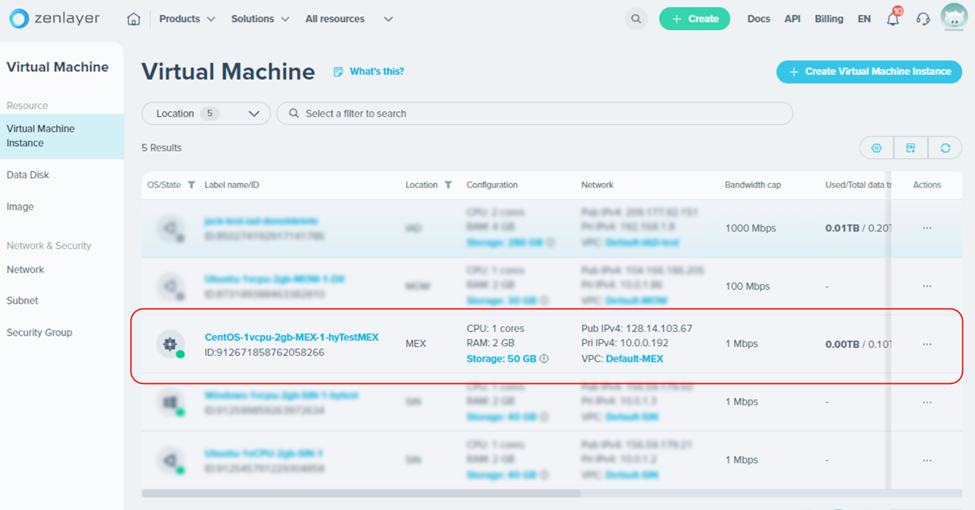 2. After clicking on your desired VM instance, you'll be greeted with the dashboard for the VM you selected. From here, click on the VNC Access button found in the upper-right corner, near your user profile.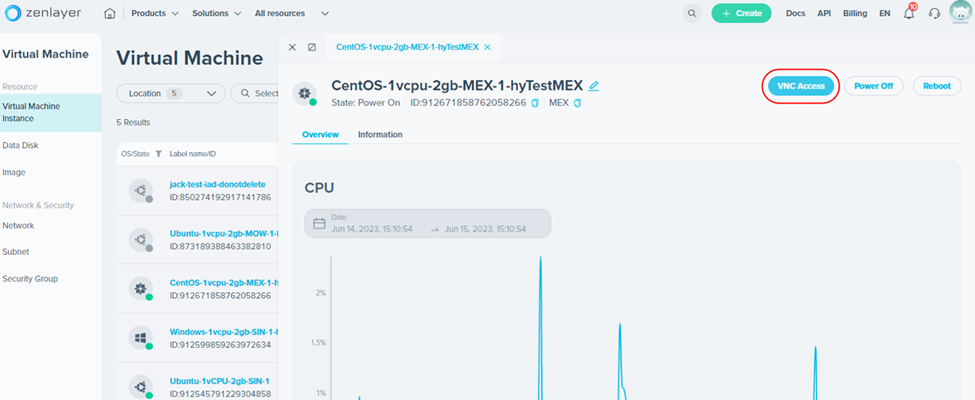 3. You'll then be directed to the VNC portal for your selected VM instance, which in our case looks like: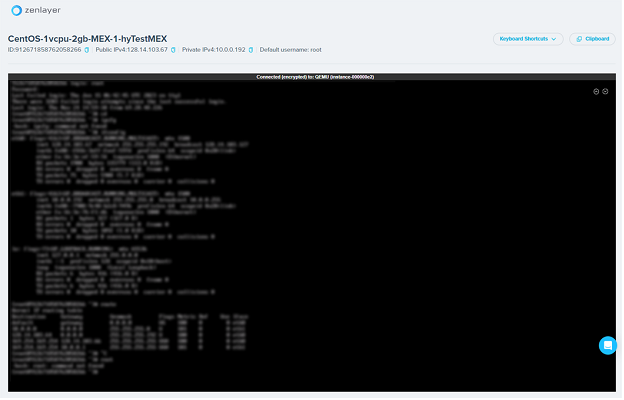 Please note that depending on your selected VM's operating system and configurations, your VNC portal may look different than our example shown above.
Try Zenlayer VM today
Get more flexibility and keep your business agile. Run your applications close to your end users for more responsive digital interactions and upgrade their experience further with our ultra-low latency network. It takes just a few clicks to provision your Zenlayer VM on zenConsole, and you'll instantly get a high-performance instance without deploying any infrastructure.
You can count on our global network of 280+ points of presence (PoPs) and 5400+ peers to help you bring your apps and services close to your users for silky smooth digital experiences, no matter where they are. To get started, talk to a solution expert today.
For the fastest service, check out zenConsole!