If you've been looking for a quick and easy way to interconnect your public cloud resources, you're in luck! We've recently added a new tool to zenConsole that lets you quickly and easily interconnect public cloud resources with a few clicks to create your own multi-cloud environment for improved reliability, cost efficiency, and scalability.
As of this writing, zenConsole supports AWS, Google Cloud Platform, and Tencent Cloud. We're still rolling out support for other public clouds, so if you can't find the one you're using, be sure to let us know!
Why would I want to interconnect public clouds?
There are many advantages to interconnecting public cloud resources to create a multi-cloud environment. Here are a few of the most common usage scenarios:
• Avoid vendor lock-in – interconnecting multiple clouds lets you use the best tools from each cloud provider instead of being locked into a single ecosystem 
• Improve redundancy – if one cloud provider goes through an outage, you can quickly fall back on another provider to ensure high availability and business continuity
• Get closer to users – reduce latency for applications, content, and services by leveraging public cloud regions closest to your users
• Optimize costs – a multi-cloud strategy gives you the flexibility to choose the most cost-effective providers for specific workloads or regions
• Maximize scalability – with streamlined and accelerated intercloud data transfers, you can quickly and easily scale or reallocate resources on demand
• Hasten recovery – the ability to replicate data and services across providers enables you to restore and resume operations quicker in the event of the unforeseen
How do I start creating my multi-cloud?
1. To access our new multi-cloud connection tool, log in to zenConsole (or sign up if this is your first time), then hover your mouse over Solutions using the main menu at the top of the page. Click on Multi-cloud Connection in the sub-menu that appears. 

Here you'll select the public cloud nodes you want to interconnect. Our multi-cloud tool lets you interconnect up to 10 clouds. Use the filtering dropdowns to quickly find your desired nodes by providers, regions, and cities. When you've added your desired cloud nodes, click on Go to Configuration.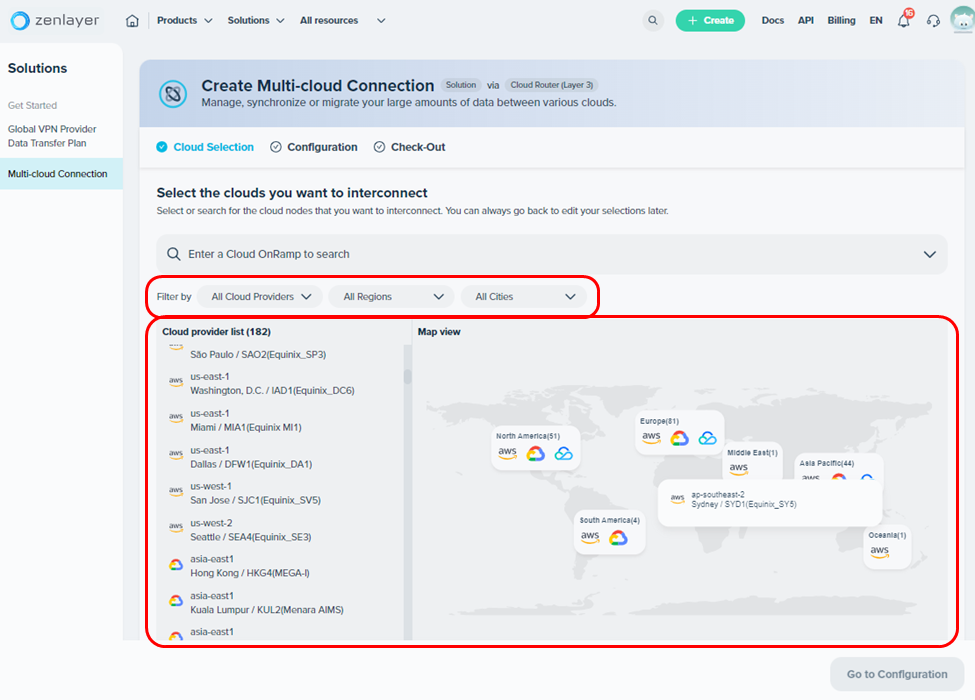 2. Here you can click on the tab for each cloud, circled in red below, to expand its configuration module. Be sure to fill in the required information and set up your configurations.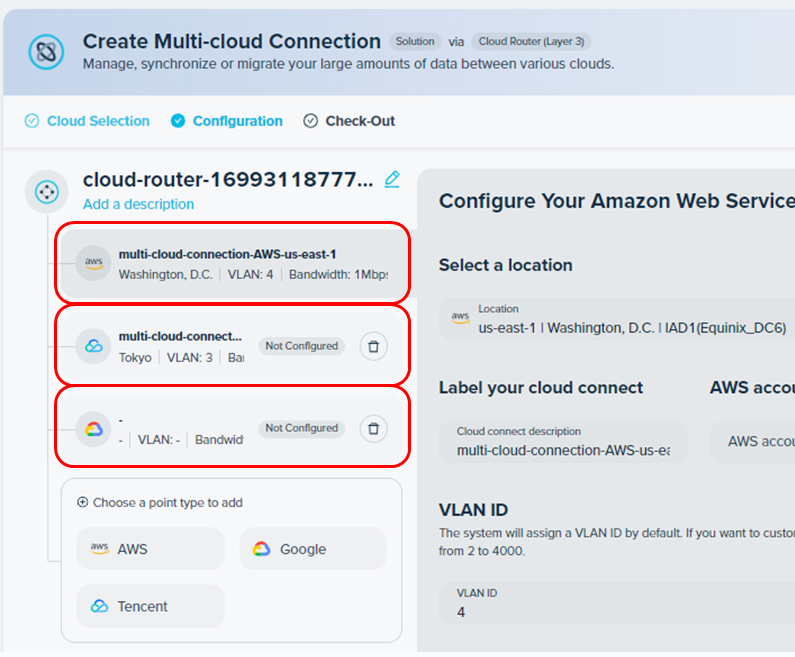 As you select your desired access bandwidth for each cloud node, you'll see your total price update in real time to reflect your selection. To view the price for each individual cloud node, click on Details, circled in red below, to expand your price summary. 

To remove a cloud node from your setup, click on the red Remove button at the bottom of that specific cloud's module.
After you've completed your configuration for each cloud, click on Go to Check-Out to proceed.
3. Review your order summary here to ensure all details are correct before submission. If you want to make any changes to your order, you can either click on the edit button to the right of the cloud node you wish to edit or click on Back to Configuration to go back to the configuration page: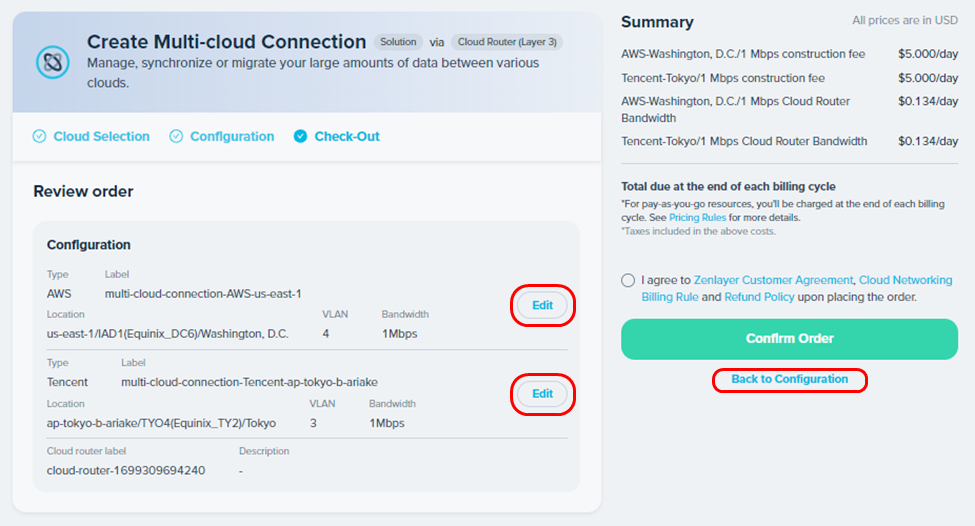 If everything looks good, check the box to indicate you've reviewed and agree to our policies, then click on Confirm Order to complete your purchase. 
Check out Zenlayer Cloud Networking
Simplify your business with industry-leading networking solutions on demand. Instantly provision a private full mesh layer 3 network with Zenlayer Cloud Router or use Zenlayer Private Connect to establish a secure layer 2 point-to-point network that interconnects your data centers and clouds. 
Whether you want to speed up data transmission, improve application responsiveness, or enhance digital user experiences, our global network of 280+ PoPs and 10,000+ peers ensure the best blend of local carriers across 6 continents for ultra-low latency and optimal performance.
Check out our other services on zenConsole or contact a solution expert today to get started!